Stronlite Model Railways –The story of a Model Railway System which promised much.
e*Train Issue: Apr 2020 |
Posted in:
Toy Train Paper & Auctions
By Nicholas Oddy, Editor of the TCS Magazine, TCA # 11-65984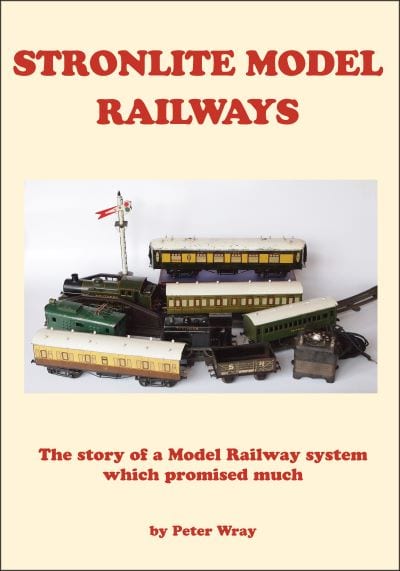 Author: Peter Wray, 2020. ISBN Not Stated
112pp A4, softcover, colour illustrated £13.00 plus £3 postage in UK. Postage to EU (outside UK) £6; USA & Canada £9; Australia & New Zealand £9.75
Available from the author:
Email: [email protected] Telephone: 020 8651 0407 Mobile: 07367 065 265 (text messages only)
Peter Wray has been assembling as much material as he can find on Stronlite for a long time and the fruits of his labour are to be had in this book. Stronlite was a trade-name coined by Strong & Co of London, a company that had long been involved in the Japanese import business. In the 1930s they began importing 0 gauge electric toy railways made by Seki, at first in Japanese guise, but later in UK outline.
These latter are quite often found on the market today and are interesting to collectors because they are often closely based on UK manufactured products, mainly Leeds, but also Mills and Hornby.
The content is not complete, but is getting close to a definitive survey. A fair number of items have yet to turn up, but in the main these seem to be variations of those that have been found. A handy list is included at the back for anyone who finds one and can report its existence. The book is notable in the size and clarity of the pictures and is a must for anyone even vaguely interested in the 'lesser' toy railway systems.
The content opens with a very full history of Strong & Co, which can be traced back to 1875, before entering a detailed analysis of the Stronlite range. This is presented chronologically and by product. A close study of this would make any reader an expert in the field, there can be little left to know. Some of the most interesting content is towards the end where the Stronlite items are placed against their UK equivalents in direct comparison. One which is not was new to this reviewer, the No.4941 Tip Truck, which seems like Hornby on a Märklin base.
There is also coverage of other "'makes," Bryant and OXIL, both of which were Seki. The latter is perhaps underplayed, although beautifully illustrated, as it included a different locomotive, closely modelled on the Hornby No1 Tank Loco, but this fact is not mentioned nor visual comparison made, a pity.
What is very clear is why Stronlite items are not as rare as one might expect, given their either Japanese or plagiarised UK image. An appendix lists price comparisons – the first is the "Leedsesque" 0-4-0 tank loco. It retailed at 10s6d against the Leeds product at –um- 47s6d…enough said. There again, the reverse was true of the accessories, explaining why today these are seen far less often than the locos and stock.
At £13 this book is as competitively priced as a Stronlite loco would be at the same, but will give its purchaser a lot more knowledge. It is (no pun intended) strongly recommended.