Copyright, Privacy, Legal Matters
Copyright Notice
This and all other sites and publications of the Train Collectors Association™, are copyright © 2016 through 2021, and immediately thereafter as revised, by the Train Collectors Association™. This applies to all text, images, and code, and to all amendments as periodically made to the site. Previous versions of the site were also copyright.
This material is presented for public view, but may not be copied without prior approval from [email protected] , or by writing to Business Office Manager, Train Collectors Association, PO Box 248, Strasburg, PA 17579-0248. All rights are reserved. Certain material is for the benefit of members of the Association, and may be subject to access restrictions.
Specifically, any material included in the Members Only section, including any Directory listings of membership, may not be printed, shared, or reproduced.
Similarly, no images or material in this web site may be incorporated to show in another's web site by means of pointing to file locations on our server. Materials indicated as for members or for instructional or recreational purposes may be printed out for the indicated purposes, such as coloring book or puzzle exercises.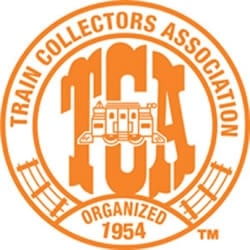 Certain materials derive from the historical collections of the Train Collectors Association, and certain materials are used by permission of their copyright owners, or are otherwise subject to rights of their creators, and likewise may not be copied without permission as appropriate under applicable law.
Note: the Logo of the Train Collectors Association as seen at right on this page and throughout the web sites of the Association is a Trade Mark, as is the name Train Collectors Association™.
Privacy Policy
As a general principle, the Train Collectors Association respects your privacy and does not intend to abuse that privacy. Our servers may log statistical information regarding usage, but this is used only for purposes of server management, traffic analysis, and design evaluation, but no personally identifiable individual visit records are maintained in the files of the Train Collectors Association.
Similarly, our servers, in particular those operating our Museum's online store,may use "cookie" technology for purposes of providing an effective delivery of information, but we do not maintain personally identifiable information in our records. Personal information voluntarily submitted by visitors to our sites, such as by filling out online forms, providing membership information, or by making purchases, will be maintained for the purposes for which they were submitted. Any personal information so submitted will not be shared outside of the offices of the Train Collectors Association, except as may be required by law or court order.
To the extent that some TCA pages use Google Analytics or the AddThis information sharing buttons, cookies may be placed by those services, but are not readable by TCA.

Responsibility for Personal Expressions
Any material in forums or other sections designed for TCA members to express their experiences, beliefs, or conclusions, should be regarded as the expression of that individual, and not necessarily that of the Train Collectors Association. All such expressions are the responsibility of the individual. TCA, acting through its designated officers and employees, retains full authority to allow or limit access to persons participating in any discussion sections, and to edit, refuse, remove, or categorize any such material or participation in what it believes is the TCA's best interest.
Other Linked Sites
As a service to our visitors, our sites provide links to a very limited number of carefully selected other web sites that may be of interest to train collectors or the general public. These generally open in a separate browser window. The Train Collectors Association™ makes no representation regarding the content of those external sites, and it cannot monitor all changes made therein subsequent to placement of our link.
COPPA (Children's Online Privacy Protection Act, as may be amended) Compliance
We are not a commercial enterprise, and do not sell to nor accept donations of any sort from children. Our sites do not target service to children under age 13 except that they may access general material regarding the toy train hobby, TCA programs, and museum activities that are deemed wholesome and suitable for all ages. No information is collected from children under age 13 except in connection with certain memberships.
Legal Service and Official Inquiry
(Not for routine information inquiries, for which see Contacts page.) Please direct any official inquiries regarding our web sites to:
Business Office Manager
Train Collectors Association
PO Box 248
Strasburg, PA 17579-0248
717 687-8976