Walt Disney's Railroad Story: A Book Review
e*Train Issue: Oct 2019 |
Posted in:
Toy Train Paper & Auctions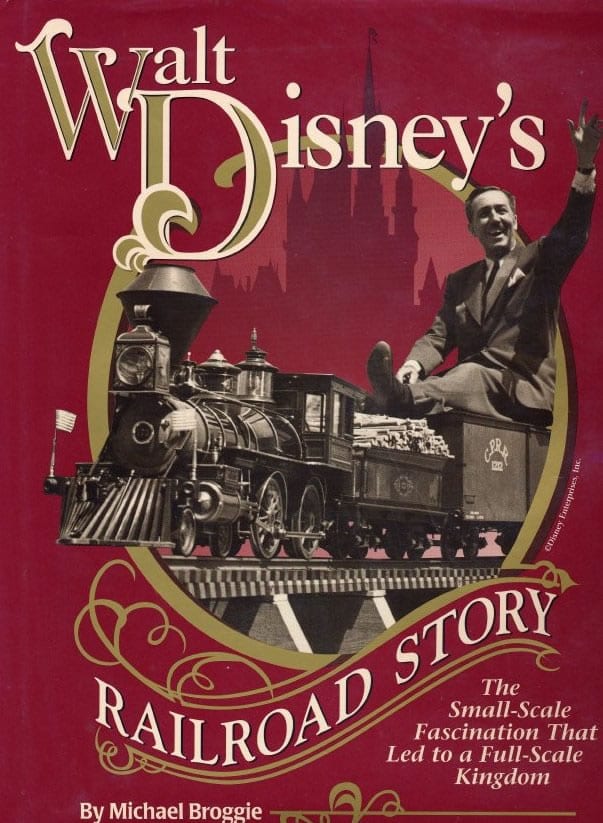 By Lori Nyce, TCA Librarian Fall 2019
Walt Disney's Railroad Story: The Small-Scale Fascination That Led to a Full-Scale Kingdom by Michael Broggie is a fascinating look into Walt Disney's love for railroading and its influence on the creation of his Disney Empire. Walt Disney was captivated by both full-size and miniature trains, and many of his employees were also railroad enthusiasts. His love of trains, family entertainment, animation, and more contributed to the development of his Magic Kingdom.
On the dedication page, Michael Broggie includes a section from the poem, Travel, by Edna St. Vincent Millay (1892-1950) which describes the love of trains that Walt Disney and other railfans share:
My Heart is warm with the friends I make,
And better friends I'll not be knowing;
Yet there isn't a train I wouldn't take,
No matter where it is going.
The Broggie family has a strong connection to the legacy of Walt Disney. Roger E. Broggie, the author's father, was a precision machinist and an original Imagineer. He managed the studio's machine shop in the 1950s, and worked directly with Walt Disney for many years. In 1990, he received the Disney Legends award for all of his contributions. The author, Michael Broggie, grew up around "Uncle Walt", and after college, he worked as a writer in the Disney studio's marketing dept. He has lectured on the life and work of Walt Disney and served as a consulting historian. In his book, he weaves through the narrative remembrances and photographs from family, friends, and employees of Walt Disney.
Two of the "Nine Old Men" of Disney animation provide introductions to the book, TCA's own Ward Kimball and Ollie Johnston. Both Kimball and Johnston were railfans and Disney Legends, and some of Johnston's previously unpublished photographs of Walt Disney's backyard rideable model railroad, the Carolwood Pacific Railroad, are included in the book.
Scene One examines the "humble beginnings" of Walt Disney, from his early childhood in Marceline, Missouri and his first job on the rails as a "news butcher" to his work with cartooning and animation and the early years of Walt Disney Productions in California. Highlights of Scene One includes Walt Disney's visit to Ward Kimball's full-size narrow-gauge backyard steam railroad, the Grizzly Flats Railroad, and their trip together aboard the Super Chief to the Chicago Railroad Fair in 1948.
Scene Two delves into Walt Disney's desire to learn more about the "live steam" railroad hobby and the creation of his own backyard rideable model railroad, with the support of his wife, Lillian Disney. With the hard work of many people, including Roger Broggie and his machinist staff, the Carolwood Pacific Railroad with its Lilly Belle locomotive was born in 1950. Unfortunately, the run of the Carolwood Pacific Railroad only lasted a few years. Due to an accident with Lilly Belle, Scene Two closes with the locomotive being put in storage.
Scene Three begins with Walt Disney's idea to use Lilly Belle as entertainment for studio visitors as well as his continuing interest in three-dimensional animation. These ideas and more led to the larger vision of Disneyland and its Magic Kingdom with a surrounding railroad. You'll learn about the overall design and construction of Disneyland and the creation of the Santa Fe and Disneyland Railroad and other rail attractions. At the grand opening of Disneyland in 1955, the railroad included two steam engines, the C.K. Holliday (No. 1) and the E.P. Ripley (No. 2), but later expanded to include additional engines.
Scene Four moves onto the 1960s, with Walt Disney's desire to create a second Disney location in Florida. Unfortunately, Walt Disney passed away in 1966 before construction began on Walt Disney World. Roger Broggie, now vice president of Disney's Mapo division, supervised the development of the transportation systems along with Earl Vilmer, Disney's transportation superintendent. Along with Walt Disney World's steam locomotives, the author includes chapters on the steam locomotives located at Tokyo Disneyland and Disneyland Paris, and a chapter on the history of railroads in America.
The information in this book review is based on the 2nd edition of the title which was published in 1998. The latest edition of the title is the 4th edition which was published in 2014.
Broggie, Michael. Walt Disney's Railroad Story: The Small-Scale Fascination That Led to a Full-Scale Kingdom. 2nd ed. Pasadena, CA: Pentrex, 1998.