The Times and Travels of Toy Trains, Edition 2
e*Train Issue: Oct 2019 |
Posted in:
Toy Train Paper & Auctions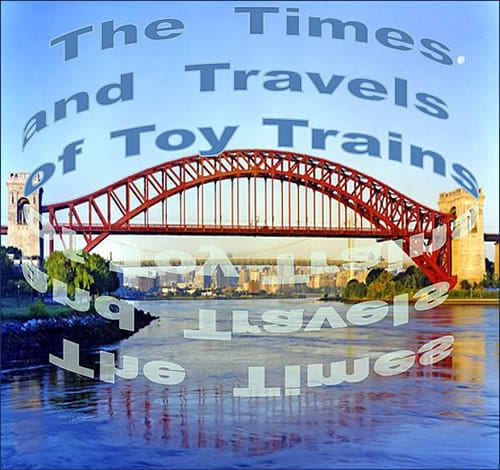 By Carol R. McGinnis, 95-41066 (© 2019) Fall 2019
What makes you a Train Collector?
Is it the love of the hunt for a special item? And then, what makes that item so special? The year that it was made? The person who gave it to you? The memory of running it on a layout?
Is it the history of the manufacturer? Is it the place that the item was made? Is it a special connection with the founder?
And what about your own personal family? When were you born? When were your parents born? If you have children, when were they born?
Here are Carol and Ruth running the Christmas trains in 1955.
Was there a magazine that you used to read? Or, was it a point of time in history that has you mesmerized?
Was it your entrance into the Train Collectors Association and the places that has taken you?
No matter what your ilk (one of my dad's favorite words), then this book will tie it all together for you. The book can, and should, be personalized. Write in your information and discover a wealth of material related to you and how you tie in to toy trains, magazine and book publication, popular cartoons, and US and World history.
The book, The Times and Travels of Toy Trains, had its initial publication in June of 2016. Printed copies sold well and the responses received were positive.
This second edition continues to build on the highlights of toy train production and documents its progression, historical events, inventions, magazines, books, family history, and TCA history. It is developed in a clear, timeline format. The individual entries are listed in the year the manufacturer was founded, the ultimate gauges that the manufacturer produced, the original location, and the founder's name(s). The number of manufacturers, alone, has grown to over 300!
In the online version here you can click on any highlighted link and that will send you to additional information about that toy train manufacturer. Typically, this is a link to the Western Division Manufacturer's List with extensive text and pictures. In Edition 2, the number of manufacturers have grown, and the links have been expanded to include links to the Binns Road (UK) site which has a lot of information on many smaller manufacturers together with pictures of the trains.
Keep your wheels down and your smoke up!