Using the National Toy Train Library
e*Train Issue: Jan 2018 |
Posted in:
TCA Adventures
By Lori Nyce, TCA Librarian Winter 2018
with TCA President Joe Fanara
Coming to the National Toy Train Library is coming to a wonderful place!
Nowhere else could one find such a unique collection of books, periodicals, catalogs, photos, records and other publications related to the toy train hobby. And videos and recorded oral histories too!
Making it better yet, the Library is accessible to everyone whether you live nearby or a far distance from our physical location at the TCA National Headquarters in Strasburg, PA.
Outlined below are the ways members and the public can reach us so that we serve your research needs.
(click image to go to the catalog)
How to Access the Library's Online Database, PastPerfect
PastPerfect is the online catalog which lists the contents of the Library collection. This program is a work in progress and is currently extensive enough to be very useful. PastPerfect lists a representative sampling of the Library's contents.
Here is how to use it (or just click the link above):
1) Go to the National Toy Train Museum's website: nttmuseum.org
2) Click on the tab "Library," on the top menu
3) Click on dropdown item, " Online Catalog"
4) Select one of the search options, such as "Keyword Search"
5) Use these tools to explore the contents of the Library
6) Contact us for further information on items of interest
Basic Research Requests
The Library offers members and non-members a half hour of free research time. Many requests fall into this category. Do you need a wiring diagram for a Lionel locomotive? Would you like information on how to sell a train collection? Are you looking for the contents of a particular set box?
Some requests require additional research, in which case there is a charge of $15 an hour, or $30 an hour for non-members. Should you need something copied you are charged $0.25 for each B&W photocopy ($0.50 for color), plus postage. The full schedule of fees, including larger copies and other charges, may be viewed here.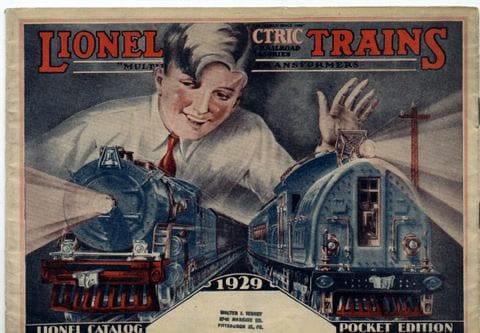 Major Research Projects
The Library also assists researchers with long-term, in-depth projects. Our collection contains many one-of-a-kind items and original source material which makes it a great resource for authors, teachers, companies, television and radio producers, journalists and more.
Are you researching information for a book about an obscure toy train company? Do you want to author an article for the Train Collectors Quarterly or the e*Train? Are you giving a presentation on toy train history to your local train club? We can provide you with research assistance and information which will help to make your project a success. We can also call on skilled toy train experts to assist.
Contact us at [email protected], call us at 717 687-8623 ext 108, or write us at: PO Box 248, Strasburg, PA 17579. To assure our ability to serve you, please call us before making a special trip.
We welcome your inquiries!