The Madison Hardware Cars
e*Train Issue: Apr 2016 |
Posted in: 1970-now Modern Era, Collecting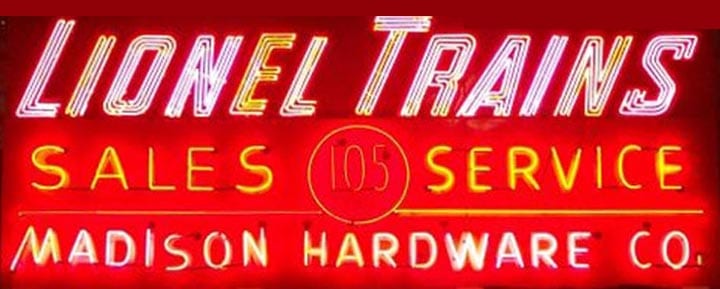 By Bob Mintz (Updated Spring 2016)

I first moved to Greenwich Village in lower Manhattan in 1978 from The Bronx. My office was on 5th Avenue and 45th Street, where two train stores were located on 45th between 5th and 6th Avenues. Lunchtime was usually spent at both stores. On Thursdays, I serviced an accounting client located right next to Polk Hobbies at Fifth Avenue and 32th Street. Lunchtime again was spent eyeballing toy trains.
But the walk home on those Thursdays consisted of short walk down Fifth Avenue, past the former Lionel Showroom at 26th Street, and then slight detour two blocks east to Park Avenue at 23rd Street to the Mecca of toy train stores.
According to RM Auctions who had been chosen as the exclusive auction house to handle the sale of Mr. and Mrs. Kughn's Collection and the Carail Museum and Madison Hardware (on September 24-26, 2004):
"In 1988, Dick Kughn learned that the owners of the Madison Hardware Company in Manhattan, New York, were interested in selling. It was the largest facility known to have purchased virtually every toy train part and overstocked item from all three eras of Lionel production. Dick, having secured Lionel, saw it only natural to have a vested interest in the Madison Hardware Company. Accordingly, he bought it – lock, stock and barrel – and had everything shipped to a warehouse in Detroit, Michigan. In 1989, Dick had commissioned a crew to unpack all contents, identify items, organize inventory, and repair models – and it took months."



In 1999, Lionel issued a TOFC to commemorate the 90th Anniversary of Madison Hardware and the 10th anniversary of the Richard Kughn version of Madison Hardware, # 52187 Madison Hardware Flatcar with 2 trailers.
From these three cars, it would appear that the official color scheme of Madison Hardware would be gray and orange.


With a little modification, I combined this flatcar with the # 52025 trailer to make yet another Madison Hardware car.
From METCA Division President/2015 Convention Chairman, Convention Cars/Welcome Party/Silent Auction/Banquet Stu Rankin:

Madison Hardware, New York City's world renowned Lionel Service Station #1, is considered by many to be the mecca of train stores. The neon sign above the former store is an iconic symbol of the heyday of train collecting. When planning a special box car to have in our convention promotion booth at the October 2014 York Train Meet, it just seemed a natural fit to incorporate the features of the neon sign onto our box car. To get some railroad flavor, we added the New York Central logo to the car as well.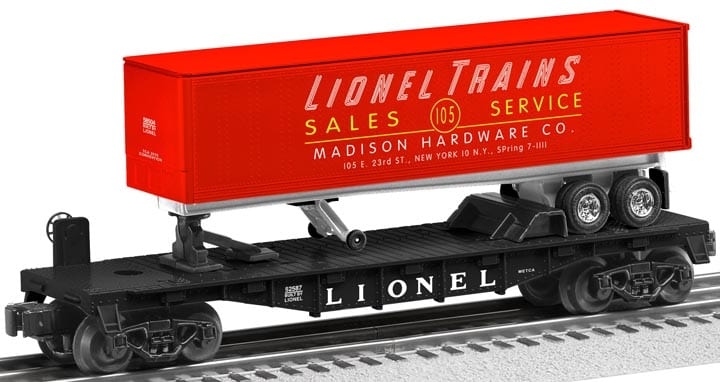 In the summer of 2011, METCA was deep in the planning stages for the 2015 Convention. One of the things being worked on was fundraising. Yes, even though the convention was still 4 years away, METCA was already raising funds (nothing like having a long range financial plan). In conjunction with other groups, METCA obtained from Lionel enough undecorated TOFC's (SKU 52587) to produce 4 cars. METCA had these 4 cars decorated as soon as the blanks were received from Lionel.
METCA immediately advertised and sold 3 of the cars. 100 pieces each were made of the 58501 Railway Express Agency TOFC, the 58502 New York Central Lightning Stripe TOFC, and the 58503 Lionel Electric Trains Showroom Layout Delivery Service TOFC. Note, all 4 cars were decorated at the same time, but only 3 cars were sold in 2011.
What happened to the 4th car? Although the 58504 Madison Hardware TOFC was produced in 2011, it was placed in long term storage for use in 2015. When it was made, there were no firm plans what it would be used for; maybe the banquet car, maybe a registration gift, maybe an on-site special.
Ultimately it was decided to use the car as an on-site special car (similar to the Madison Hardware Box cars from the York meets) and sell the car in the convention store during convention week.
Even though the New York Central Box Car was the only Madison Hardware Box Car that was available at October 2014 York, there were several other variations in production. Unveiled at the 2015 Convention Promotion Booth at the April 2015 York Meet were four additional versions of Madison Hardware Box Cars. They were:




Since these Lionel produced box cars were redecorated by Weaver Models, there were opportunities to have additional versions produced in very low quantities. There were two additional Madison Hardware Box Cars produced as Thank You Gifts for those Convention Volunteers who went "above and beyond" on the level of effort they spent on the convention. The two Thank You Gift versions were: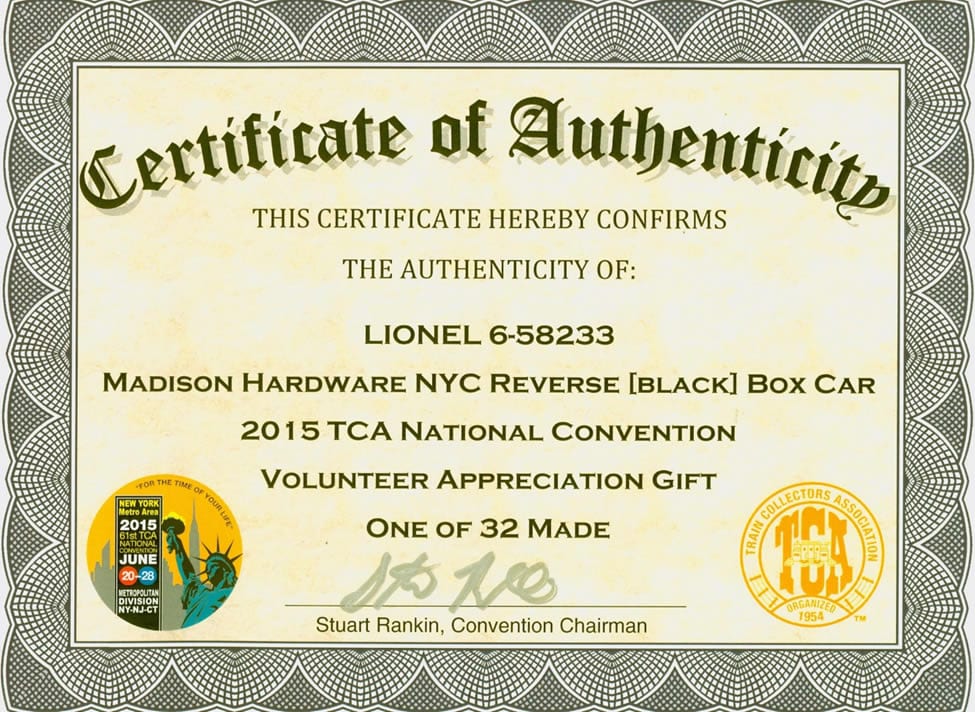 Only 36 pieces of the black New York Central and only 20 of the gold Lionel Lines cars were made.