The Lionel Blue Boys
e*Train Issue: Jun 2018 |
Posted in: 1970-now Modern Era, Collecting
By Bob Mintz
Lionel Trademarks Classic Orange and Blue: "Lionel is proud to announce that it joins the ranks of McDonald's®, John Deere® and Crayola® after the United States Patent and Trademark Office granted official registration of the classic Lionel orange and blue colors.
A 1995 U.S. Supreme Court decision provides that the trademark law protects colors that are strongly associated with a product or manufacturer. The verdict proves that as goods and services continue to integrate into the daily lives of all Americans, color marks assume added importance because they overcome the language or cultural barriers faced by more traditional word or device marks.
As with all Lionel trademarks, Lionel L.L.C. intends to protect its unique color palette to prevent consumer confusion from misleading competitive products, advertising or collateral materials."
The 1996 Lionel Corporation catalog first introduced the Lionel Lines O-27 set number 1113WS (SKU 6-11910) which included the 9700 Lionel Corporation boxcar which "carries valuable components to our factory".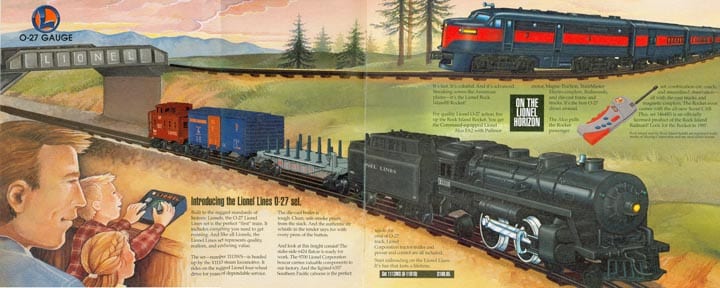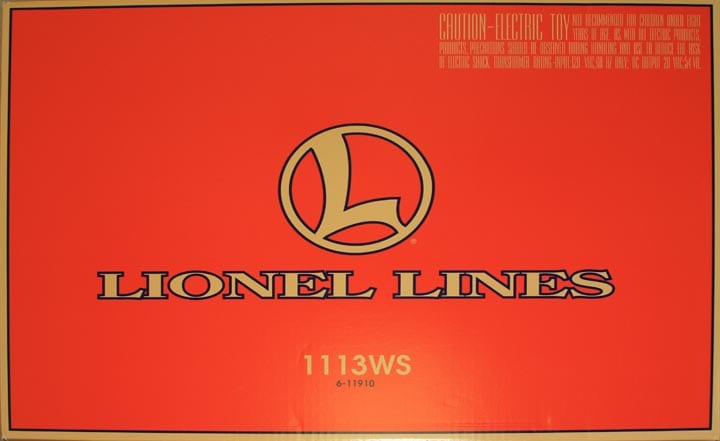 The 9700 style Boxcar #16269 was produced in the patented Lionel orange and blue. It also paid homage to the humble beginnings of Lionel's cheaper starter sets from the early 50's, the "Scout" sets.

Lionel first issued a Toy Fair car at the 1973 New York City Toy Fair. Not all of the cars were boxcars. For several years, a refrigerator reefer was produced instead.
For the years 1973 and 1974, a slow selling regular production model was used with the only difference being an overstamp to mention the New York Toy Fair of that particular year.
Starting in 1975, a special issue car was made for dealers. Inevitably, the dealers sold these to collectors, sometimes for exorbitant prices.
The early years may, or may not have had boxes included. The 1976 box was consistent with that year's Bicentennial celebration; a red, white and blue box. In other years, a label was used on the end flaps, rather than having a box specifically printed for this car.

The 1996 Toy Fair boxcar #19947 was similar to #16269, a 9700 style boxcar, same color scheme, the "Circle L", but this one had sprung trucks
The 1996 Toy Fair box was all blue, a rare variation considering the usual orange, or orange and white boxes.
In an effort to continue to milk, er, um, I mean start a whole new set of collectibles, the 1996 Lionel Railroader Club (LRRC) boxcar (#29200) was supposed to be a 6464 boxcar modeled after the 1996 Toy Fair Boxcar (#19947).

The "9700" number of this item was never changed to "6464", as was advertised in the LRRC Spring 1996 publication "Inside Track". Lionel LLC offered to either exchange it for the correct car (#19953), or make arrangements for the additional purchase of the originally promoted version.
To honor Lionel's centennial, boxcar 6464-2000 #29298 was offered.

The year 2000 would produce yet another familiar orange and blue boxcar.

Well, not exactly!
#21976 Centennial starter set would include a 9700 style boxcar (#26294) in the familiar colors, etc., except that it had blue doors.
I have a one-of-kind with orange doors.
You too can have this unique variation, just change the doors!!!
I had just started to collect these boxcars because of their colors. (See another article of mine: http://www.tcaetrain.org/articles/collecting/ULTIMATE/index.html
It did not dawn on me that we had a new category to collect.
It was not until I read an ad in 1997 at Trainbuddies www.TRAINBUDDIES.com that someone had actually given a name to these boxcars.
Credit Bobby Stricklin and Lee Garrett with the moniker "Blue Boys". And also a big thank you for giving me permission to use their image at the header of this article.
Fast forward to the present.
Besides my being Editor for TCA's e*Train, I am involved with a local Long Island club called LITTLE (Long Island Toy Train Locomotive Engineers), which is the fund raising arm for RMLI (pronounced Rim Lee—Railroad Museum of Long Island). Along with former Grumman executive George Faeth and former NLOE club car agent Al Schwartz, we are the troika who work with Lionel in producing the club cars for RMLI, of which George is VP and I am a Trustee.
All living here on Long Island, we were aware that this coming year was the 175th anniversary of the Long Island Railroad's charter. We decided to honor this event with a special extra offer this year.
The Railroad was chartered on April 24, 1834 and is the oldest Class 1 railroad in the United States still operating under its original name and charter. The original purpose of the Long Island Rail Road was to create a rail/ferry/rail connection from New York to Boston. The "Main Line" route was to be via rail to LI's North Fork; then by boat to Stonington, Connecticut; where it would continue by rail through Providence and eventually, Boston.
LIRR planned for direct access westbound to Manhattan by the late 1880's, considering a tunnel to connect to Grand Central Station. Simultaneously, the PRR planned access to Manhattan eastbound from N.J. In 1900, PRR paid $6 million for a controlling interest in LIRR and incorporated the companies to build the New York Tunnel Extension from NJ through Manhattan to Long Island City. Pennsylvania Station was built to accommodate both entities. In 2013 the LIRR intends to initiate service to Grand Central Terminal.
We toyed with several versions of the car, until it was mutually decided to make another Blue Boy, but in order to mass market to the largest possible collector audience, it is also a 6464 car as well. To further make this car unique and create the triple play, it will come in a blue box similar to the original 1996 Toy Fair boxcar.
This Lionel factory produced car 6464 Boxcar (6-52548) was painted in Lionel blue and orange colors. It has die-cast trucks and come in a unique reverse color blue box.
The Lionel Corp. maintained a showroom at 15 E. 26th Street in New York until its 1964 shutdown. The layout was then disassembled and stored in pieces on top of one another in a warehouse somewhere in New Jersey, whereby it eventually disintegrated to the point that it was impractical to repair, and was eventually discarded. In 1991, a group of Lionel LTI employees built, on a volunteer basis at the Mount Clemens, Michigan corporate offices, a display that evoked the classic 1949 design of the original layout. It featured a 14-foot by 40-foot layout with seven running trains and 37 operating accessories. It officially opened to the public on Feb. 19, 1992 and was closed on June 20, 2008.
"The Magic Lives On…" In February of 2009, volunteers from the Railroad Museum of Long Island (RMLI) went to the closed LVC to review how to disassemble and move this layout to Long Island. On April 7, 2009, RMLI received an official letter from Lionel LLC donating the Visitor's Center Layout to the RMLI for the purpose of its continued display to the public by the Museum. It was decided to purchase a 40-foot container, install 68 eight-foot 2 x 4s for shelving and have it loaded on a truck to bring the layout back to Riverhead N.Y. in fifteen pieces. In early May 2009 a group of RMLI volunteers went back to Michigan and accomplished this task, which took about a week. The total weight of the layout was a little over seven thousand pounds.
To commemorate the Grand Opening of the former Lionel Visitor's Center at its new location in Riverhead, N.Y., the RMLI has created this Lionel factory produced 6464 style boxcar (6-52571) in "O" Gauge. It features die-cast metal sprung trucks and will come in a unique blue box, the same as our recently released 175th Anniversary LIRR 6464 boxcar (52548) shown above.

#52571 Railroad Museum of Long Island Riverhead Visitor's Center Grand Opening Car
Funds raised from the profits of the sale of this car go towards the operating; maintenance; and repair of the former Lionel Visitor's Center Layout now located at the Railroad Museum of Long Island.

# 39348 Lionel NASCAR Collectables Boxcar
"Lionel celebrates the formation of Lionel NASCAR Collectables with this special boxcar paying tribute to No. 7 JR Motorsports Lionel NASCAR Collectables Chevrolet that raced in the NASCAR Nationwide Series Kansas Lottery 300 on October 2, 2010"
# 58069 Railroad Museum Of Long Island Lionel "Steam Up LIRR 39" Blue Boy
The Railroad Museum of Long Island (RMLI) offered this Made in America, Lionel O gauge commemorative car. Production of this car was limited to those who purchased this car in advance. All funds raised from the sale of this car will go toward the estimated $1 million needed to complete the restoration of Long Island Rail Road steam locomotive #39, which was a G5 Pennsy class.