A Pleasant Playmobil® Surprise!
e*Train Issue: Jun 2018 |
Posted in: 1970-now Modern Era, Collecting
By Jacob Griffith-Rosenberger, NTTL AssistantSummer 2018
In the August 2002 issue of e*Train, Bill Laughlin writes about introducing his grandson, Riley, to tinplate trains as a baby and toddler. Bill transitioned Riley from watching Thomas & Friends and I Love Toy Trains to Thomas-branded Brio trains and then, finally, electric toy trains. Unfortunately, I never made this transition (or rather, I haven't yet). This is despite the Lionel trains my grandfather operated with winter layouts decorated by my grandmother at Christmas (my younger cousin has that collection now).
I loved all things Thomas the Tank Engine and still have an extensive collection of Thomas & Friends Wooden Railway manufactured by Learning Curve and Brio (I believe I have a particularly Brio-heavy collection). Instead of electric toy trains, I moved from wooden Brioto the plastic German storytelling toys, Playmobil®. Playmobil® sets are the toys that I loved the most and played with the longest, although I sadly had no trains.
For me, coming to work as the library assistant at the National Toy Train Library (NTTL) is a dream come true. I am exploring library science, working in Paradise, literally, and surrounding myself with trains. Because I never played with electric toy trains, I did not expect to have a lot of childhood memories invested in the Library's collection. On my first day of work, Lori (Lori Nyce, NTTL Librarian) suggested I search the online catalogto familiarize myself with the Library's holdings. I chose to investigate what there was of what I knew, Brio and Playmobil®. Much to my surprise, the Library had files on both! In the Playmobil® folders, I discovered that the company did in fact produce train sets with Victorian Europe, American West, and modern passenger and freight themes.
The NTTL holds several Playmobil® Railways catalogs in its collection, as well as other Playmobil® catalogs and promotional materials. Even more shocking to me, Playmobil®'s trains were powered! Playmobil®'s railways were in G scale, used LGB designs, and ran on the LGB track system. While LGB tracks and all essential equipment were sold by Playmobil®, electrical accessories were only available from LGB, in order to simplify the Playmobil® system for kids (Playmobil® Railways 1985, 11). I still absolutely love unpowered Brio wooden trains, but I cannot deny that I find powered Playmobil® trains incredibly exciting.
Ironically, the first Playmobil® set I remember having is 4300 Bahnhof (1983-1993, 1991 box) and I did not like it!
The set depicts a European train station in the style of a historic wattle-and-daub and stone house with a tiled roof. I did not understand that it was supposed to be a train station, probably because I did not have any matching trains! I also found it a little boring and too modern for my historical storytelling; it was a little too mature for me at the time. I wanted a big medieval European castle or an early modern pirate ship instead. But, discovering that there are Playmobil® trains to go with my station set has piqued my interest.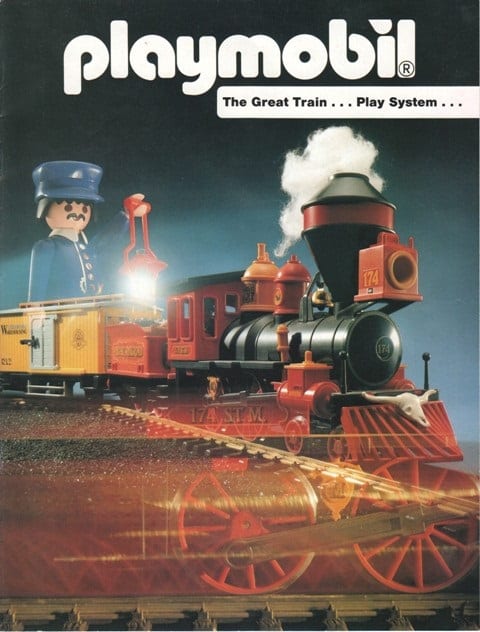 In 1991, Playmobil® published The Great Train…Play System…catalog. It advertises the 4300 Bahnhof as part of "The Good Old Days" theme, which was introduced by Playmobil® in 1990 and celebrated late Victorian Europe (News Release). In mid-May, I set up my 4300 Bahnhof (1991) for the first time in over a decade. Miraculously, I have almost every single piece (thanks only to my mom, not little Jake).
The train set that matches this station is the 4002 Steam Loco Passenger Train Set (1988-1994, 1991 catalog), with a modified 4051 Steam Loco (winged decal) and two modified 4100 Passenger Coaches (in red with winged decal). It is very similar in design and elements to LGB's 23301 Passenger Train Set. I still only have a mild interest in "The Good Old Days" of Victorian Europe, but I would love to have a matching train set for my station. I would be lying if I said I hadn't checked for one on eBay.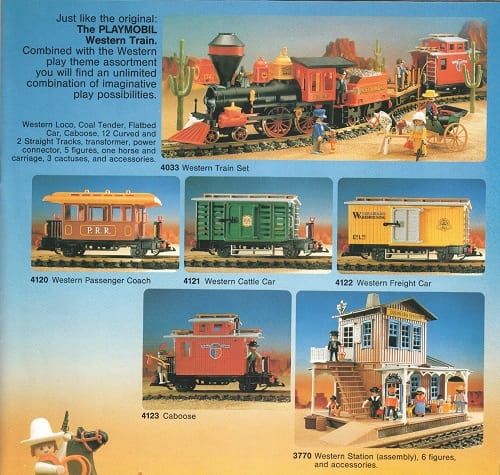 The first thing to catch my eye in the NTTL's Playmobil® folders was the Western Train featured on the cover of The Great Train…Play System…catalog. I loved my American West and American Civil War themed Playmobil® sets, so much so that they are now almost entirely broken, missing essential pieces, or lost altogether. What interests me is the 4033 Large Western Train Set (1988-1996, 1991 catalog) witha 4054 Western Loco and Coal Tender, an uncatalogued Flatbed Car, and a 4123 Caboose. I wouldn't mind having the 4120 Western Passenger Coach, 4121 Western Cattle Car, and 4122 Western Freight Car too. And I certainly wouldn't be able to pass up the 3770 Western Station marked Colorado Springs. In less than two months working at the NTTL and for the TCA, I have already found my tinplate interest. Maybe I'll start collecting Playmobil® Railways. Is anyone selling? I'll settle for the 3958 Small Western Train Set (1988-1989, 1991 catalog enclosure) for now.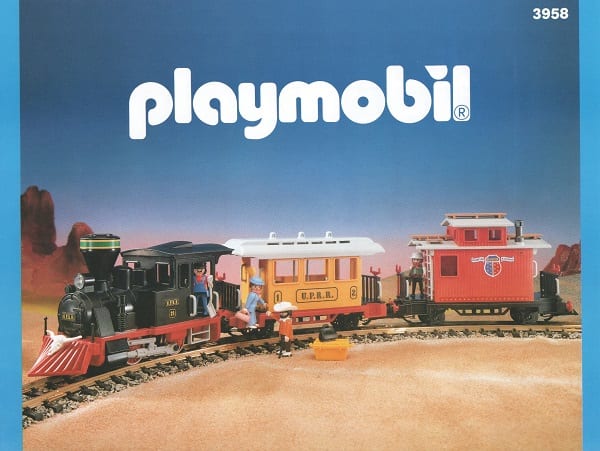 This web site is not owned, operated, sponsored or authorized by geobra Brandstätter Stiftung & Co. KG. geobra Brandstätter Stiftung & Co. KG does not endorse, and is not responsible for, this web site or any information or links contained herein; makes no express or implied warranties with regard to any information or links on this web site or any other linked web sites; and is not bound by any statements made on this web site, or by those who own or operate this web site. The trademarks PLAYMOBIL®, PLAYMOBIL® SYSTEM X, PLAYMOBIL® RC TRAIN and PLAYMOBIL® FUNPARK and the copyrighted images of PLAYMOBIL® products are the sole and exclusive property of geobra Brandstätter Stiftung & Co. KG, which reserves all rights therein.