Super O is Super!
e*Train Issue: Jun 2023 |
Posted in:
Operating & Layouts
By Mike Spanier, TCA #85-21856                                                            Summer e*Train 2023
"I call myself (quite modestly) the largest buyer and seller of Lionel Super O trackage in the world! Of course, it is not a huge market! Are you aware of this track system?
Super O Track (ebay.org)
My first experience with Super O track was in 1994. Two good friends, at the time, Tasker Brush and John Fox (both TCA members), said I should come with them to a small monthly train show in Midlothian, Illinois. Well, the show was packed with buyers and sellers. Jam packed…. That was the first train show I attended. What fun! They said there was a very large train show coming up in York, Pennsylvania. They mentioned it to my wife and she thought plane tickets to York would be a great birthday present! So for the next 15 years us three guys, twice a year, went Yorking!
Let me get back to Super O. At that very first train show, as we were leaving, I saw some strange looking track I had never seen before! That was my first experience with Super O track. I asked what it was, and became quite interested. There were eighteen pieces (some had pins broken off in them!) As I was carrying the track out a person asked me if the track was for sale!! I was intrigued!! I doubled the price I paid(still not much). My first customer grabbed it and it was my first sale. From that point on I started buying all the Super O trackage I could find at good prices and decent shape.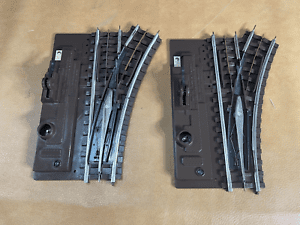 Super O switches (ebay.org)
Learning where to sell it, what pricing, should I advertise, etc., all made the journey a fun one. I supplied all the trackage to TCA member Steve Garofalo when he built his recreation of Lionel Super O showroom layout that was in Classic Toy Trains Magazine. After 10 years he took it down and I bought my track back!!
Shortly after becoming a Super O fan, I learned about Yahoo Groups, which I later switched to Groups.IO which is where we are today. We have almost 700 members who can answer any question about Super O Trackage and Post War Lionel Trains. I introduced Joe Lechner to Groups.IO and their site (the TTML) has moved there as well.
All Super O trackage (straight, curves, 1/2 sections, switches, etc) are readily available today and quite reasonably priced.
My co-moderator is Rob Wachter who is a fountain of knowledge about Super O trackage and Postwar Lionel.
The History of Lionel Super "O" Track
www.tcatrains.org/etrain/lionel-super-o-track-a-historical-perspective/