Still running after 77 years
e*Train Issue: Jun 2016 |
Posted in: 1900-1942 PreWar Era, Collecting
By Eric J. Matzke (Summer 2016)

Let's take a look at the small and unusual Marx channel track set number 418 which Marx labeled on the set box top "TABLE TOP TYPE ELECTRICAL TRAIN".
Marx indeed was quite accurate in their box top description as it fits easily on our 36" x 47" breakfast table in the kitchen!
The outer diameter for a circle of channel track is 25-1/2" and with the addition of two straight sections on each side an oval of 41-1/2" overall length is formed, still fitting comfortably on our breakfast table.
This miniature set is such a gem from Marx of the late 30's that it just has to be shared with Marx Aficionados! Marx produced this set for two years, 1938 and 1939. Its development followed a typical Marx pattern as their R & D (research & development) group used what they had learned in the manufacture of earlier versions of mechanical channel track speedway sets to development the more complex track sections required for the Electric Channel Track Speedway and the Electric Channel TrackTrain sets.
Previous channel track auto sets had all been mechanical. An early "Streamline Speedway" set appeared in SEARS 1936 Christmas Catalog featuring an over-under, two channel figure eight track with two windup autos. Another mechanical "Cross-Over Speedway" was produced in 1938 very similar to the 1936 speedway set but supplied with two race cars in lieu of autos (Instruction Sheet IS-66 came with this set). The mechanical track section simply used a pin at alternate ends and a hook and hole in the center divider to hold sections together. To produce a channel track section to support electrical operation not only required good physical locking of joints but also good conductivity at track joints. The car design for electrical operation was straight forward-just go forward but the train version required additions such as a flint holder/abrasive wheel to provide sparks up the front tear drop smoke stack and a two position reversing unit.
Since the lithography for the Speedway channel track sections was not suitable for the train channel track sections Marx art department came up with a pattern for the train channel track sections to be lithographed with R.R. ties and multicolor ballast on the outer edges.
Now the R & D group at Marx had a locomotive (No. 5151,NYC), track to run it on and their 45 watt number 709 transformer to supply power. But what about a train to go with it?
Enter the Marx Art Department to collaborate with the R & D guys and true to form they re-invented what they already had! The art department created three cars which shared the same miniature body shell, a tender (also numbered 5151) to match the 5151 locomotive, an un-numbered box car (merchant's dispatch) and a small caboose (numbered 557). All details for the caboose cupola and end platforms were represented by lithography on the smooth body shell. Marx did; however, opt to produce a hopper car (9712) with a car body formed similar to their existing O gauge hoppers. While not a part of the set being described it should be noted that Marx also used the smooth car bodies mentioned above to offer a passenger service on channel sets. The two red passenger cars were the number 5153 coach and the number 5159 observation.
Chronologically Marx obtained the capability for lithographing in three colors about 1936 to 1937 and the improvement over the previous painstaking scribing of lines on a lithography steel plate contributed to economical productions of items such as the 1938 speedway set and the channel train set. Louis Marx and his manufacturing plants kept a very close watch on production costs. On a visit to a temporary storage building in Erie, Pennsylvania, I was able to look through a black three ring notebook binder which contained the actual costs of die and tooling production. I was amazed to read that the Marx book keepers kept track of cost in mils! Our little channel train utilizing the same body for three cars was right in line with Marx economics.
The channel track set number 418 came with two Merchant Dispatch box cars and two number 9712 coal hoppers in addition to the caboose and tender affording an overall train length of 32-1/2". It was typical for Marx to include extras in sets as long as they were not too costly; lithography afforded a cost effective duplication method once they got it right.
Always of interest is the tracing of the history of an individual set; therefore, some background about the original owner of this channel track set follows. The set was a Christmas gift to Bill R. Hoke as a child, who was born in 1933. When Bill grew up he became a close friend of Leon Jordanand also the announcer for the dance orchestra lead by Leon who lived in Raleigh, NC. Since Leon had a sizeable train collection, Bill gave Leon the Channel set to add to his collection. After Bill passed away Leon felt that he should give the set back to Carolyn, Bill's widow. Later in the 90's,I, and two other TCA members decided that we would take Leon as our guest to the York meet since he had never been to a York meet. On that trip Leon told me about the Channel track set and I expressed interest in it and gave him my business card to give to Mrs. Hoke. Over the years Leon would tell me that the train was not for sale. About 20 years or so passed by and all hope of the channel track set had vanished when a lady, Grace, Carolyn's sister-in-law, called one day and told me Carolyn Hoke still had my card and could we talk about the train set? YES!
Another very useful source of information about the channel track sets is Marx Instruction Sheet number IS 25 entitled "INSTRUCTIONS FOR ELECTRIC SPEEDWAY". This instruction sheet was written to provide assembly and operating data for the channel track speedway race car set and the channel train sets using the same IS sheet to cover both. This strongly suggests that the electrical speedway and electrical train channel track sets were developed concurrently by Marx.
The track assembly and transformer connection information given is common to both set types, but specific operation instructions are covered in detail for train sets followed by another paragraph devoted to race car operation. This IS sheet concludes with general instructions pertaining to track maintenance, trouble shooting and lubricating directions for cars or locomotives and ends with a warning to turn the transformer off immediately if a car or train jumps the track. (GOOD ADVICE FOR ALL MARX.)
The freight cars included in this miniature train set bear quite a resemblance to their larger O gauge cousins. Number 9712 "COMFORT COAL CO." hopper car looks a lot like Marx 6" O gauge "GENERAL COAL CO." hopper. (Photo # 6).
A comparison of the MERCHANTS DISPATCH (No Number) resembles Marx 555 C&S (Colorado & Southern) O gauge reefer as both cars have a man shown in an open door and the lithography colors are very similar.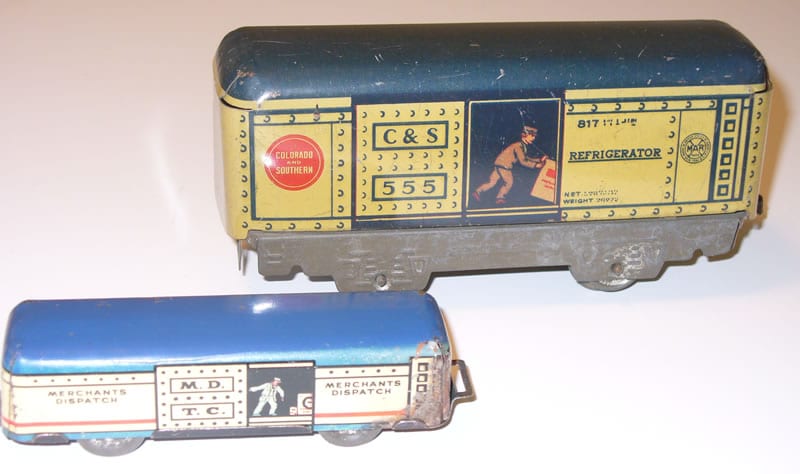 Finally the Art Department's lithography patterning for the Number 557 caboose is their crowning achievement. The detail created to represent the cupola, end platforms with man aboard, ladders and railing on each end speaks strongly of the artistic talent that resided in Marx Art Department. Look closely at the comparison between the O gauge caboose (number 556) and the miniature number 557 done by lithography alone.
The Art Department creativity is the irresistible force that continues to draw so many of us to Marx through their colorful and detailed lithography of trains, accessories and toys even after decades slip by.