A Book Review: BRITISH TOY TRAINS: FEATURING ALL THOSE OTHER BRITISH TOY TRAIN MANUFACTURERS, by Michael D. Foster
e*Train Issue: Apr 2016 |
Posted in:
Toy Train Paper & Auctions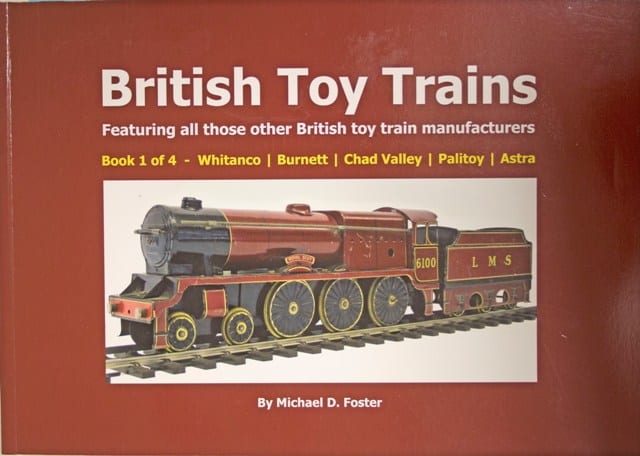 By Jan Athey, TCA National Toy Train Library Librarian Spring 2016
British Toy Trains: Featuring all those other British toy train manufacturers is Book 1 of what author, Michael D. Foster, plans as a 4-part series outlining the history of lesser-known toy train manufacturers of England. In this well-researched volume he explores the history of companies Whitanco, Burnett, Chad Valley, Palitoy and Astra, the products of which are described as, "… wonderful toy trains produced in the thousands and sold for most part cheaply, in such famous stores as Woolworths' and the like from 1919 to 1959."
The merit of this book lies in its abundant high-resolution color photographs which invite the reader to closely examine its subjects as well as the author's conversational tone which makes it a pleasure to read at a leisurely pace.
The struggle of British toy train companies to establish themselves in the national market dominated by Nuremberg manufacturers ended abruptly in 1914 with the advent of WWI. The British Board of trade's efforts to promote homegrown companies led to the formation of Brimtoy, Meccano and Whitanco (Whitely, Tansley & Co. Ltd.)
The smallest and shortest-lived of these companies, Whitanco of Liverpool, published its first full page ad in Games and Toys trade magazine in 1916, illustrating its "Superb Clockwork Train Set." The company went on to produce a range of handsome, well-designed clockwork sets including an "American Train Set" complete with cowcatcher and GNR road name plus a Whitanco take-apart kit with 139 interchangeable, detachable parts. Foster attributes the demise of this company in the mid 1920s to the weakness of its clockwork mechanisms as well as to competition from German and other British manufacturers.
Originating as a producer of tin lithographed toys, the author explains that the Burnett Co. Ltd. of Birmingham evolved into a toy train maker upon its purchase of old Whitanco tooling in the mid 1920s. Its first model made circa 1926 was an attractive dark red No. 1066 floor locomotive with adjoined tender, but the company only achieved real fame upon the introduction of its "Ubilda" line of sturdy construction kits including the Royal Scot and the LNER Lilliput clockwork engines.
Foster devotes one half of his book to his favorite Chad Valley Trains of London, the largest and longest-lived of the companies covered in this volume. Originating in the 1860s as a hugely popular maker of wooden games and toys, Chad Valley made its debut in the toy train market in 1924 by creating a promotional wooden jigsaw puzzle of the "Caerphilly Castle" locomotive, leading to the production of a whole series of similar puzzles. Chad Valley's 1935 catalog Illustrates its first full length wooden pull train consisting of the King George V locomotive and 6 coaches.
Foster explains that Chad Valley emerged from WWII as a company reinvented and prepared to produce tinplate mechanical toys. Its first train sets appeared in a full-color ad in Games and Toys, November 1948; illustrating pairs of bright green and red passenger and freight clockwork sets. Foster describes them as "First Quality" sets and as "strong, simple, and beautifully printed with immense play value."
According to the author, by 1950 Chad Valley included in its line 8 train sets and numerous railroad accessories. The company introduced the striking 4-4-0 No. 10138 royal blue engine and tender in 1951 followed by other successes such as the colorful O gauge No. 10111 and 10113 from 1951-1957, and No. 10223 passenger set in 1954 and 1955. Shown in vivid detail are photographs of charming railroad accessories such as the "Bognor Regis" station and "South Junction" signal boxes. Toy trains disappear from Chad Valley toy catalogs by 1958.
Foster informs us that Palitoy of Leicester, England was founded as Cascelloid Co. Ltd. by A. E. Pallet, Chairman of the British Toy Manufacturers Association in the 1930s. The toy division was first registered in 1935 and in 1938 it produced the first ever battery-operated plastic injection molded toys, vehicles and planes. Palitoy advertised its first toy train, set No. 9500, in May 1950 Games and Toys. Based loosely on the outline of the "Flying Scotsman" this model was comprised of an engine, tender, two coaches and ten feet of brass two-rail (S gauge type) track, powered by four 1.5 volt batteries.
We learn that Palitoy was known as an innovator both for its development of plastics injection molding and its use of 2-rail track which was a novelty among British companies at that time. In April of 1951 the company advertised its first electric train set headed by a handsomely crafted 2-6-2 GWR/BR Prairie tank engine with true 2-rail pick up through both tracks on cast metal drive wheels. Although Palitoy produced toy trains for only 9 years, Foster points out that its remarkable innovations within this short time makes it historically important.
In 1949 Palitoy Ltd. initiated production of the first ever plastic injection molded toy train.
Michael Foster devotes the final pages of his book to two popular train toys: Astra railway wagons and Harry Hayseed, the Tricky Track Man by Die Casting Machine Tools Ltd. The first is a military car with cannon from the late 1930s and the second a 1950s era whimsical handcar with comical figure operating it. Each producing one significant train toy, these companies are truly two of the least known toy train companies in England.
The reader will find in British Toy Trains… a genial read, fabulous photographs and new insight into the development of the British toy train industry through glimpses of some of its smaller but nevertheless intriguing players.
To order: To order this book contact the author at [email protected]. ISBN 978-0-9932047-0-8 OR contact either of the following booksellers: Bill Blystone at (412)-371-3511 or Ken Cook at (303)-777-6766.