Next Station: Hollywood!
e*Train Issue: Sep 2023 |
Posted in: Operating & Layouts, TCA Adventures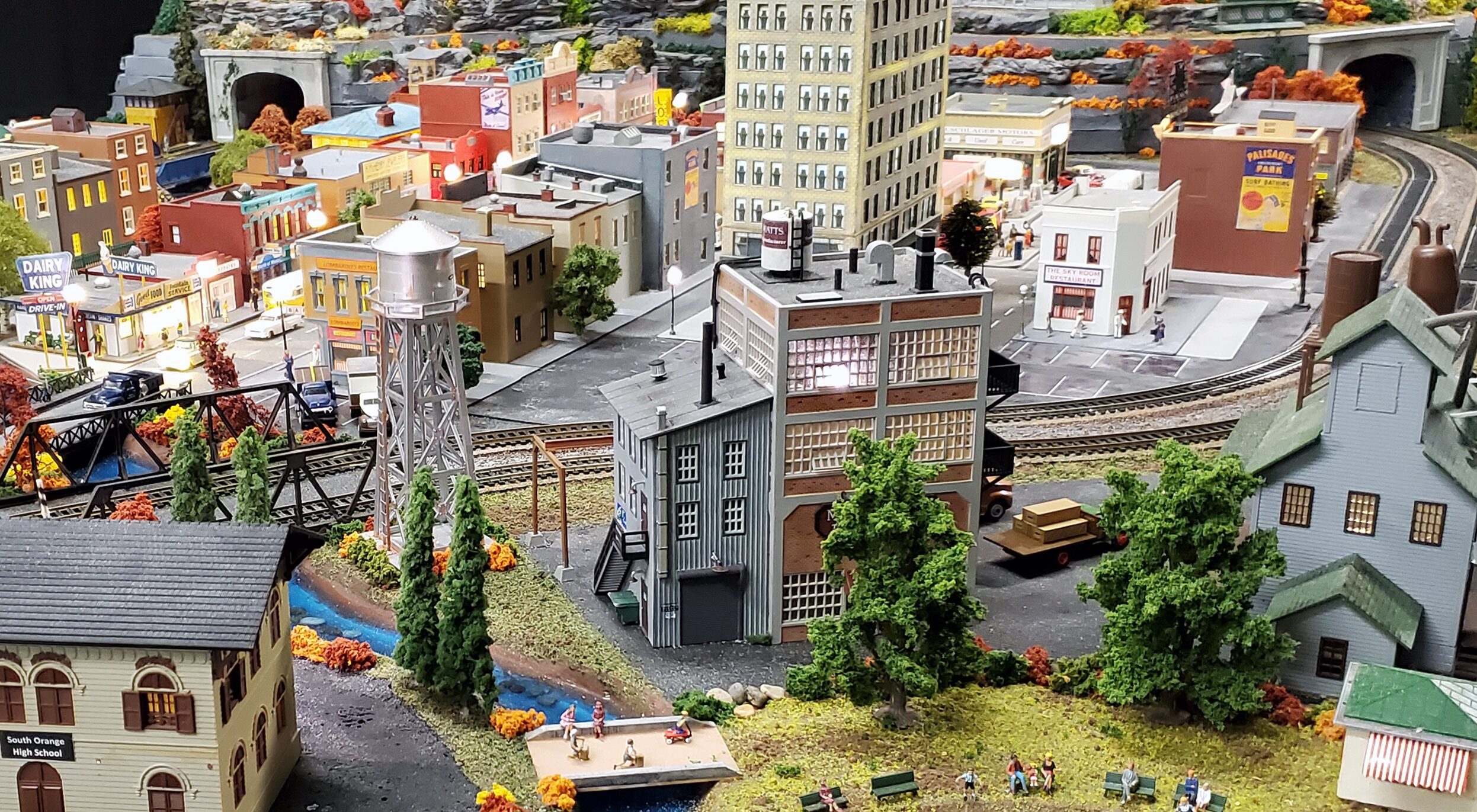 Article and Photos by Ron Suissa, TCA# 92-34669 of Deadhead Railways Fall e*Train 2023
"For the model train enthusiast, we lord over a world where the neighbors are always kind, the lovers always end up together, and the trains always take you to the far-off places you always swore you'd go." Morgan Freeman, A Good Person (2023)
I'm thrilled to share that my work is featured in an incredible film. Released on March 24th, 2023, A Good Person is an American drama film starring Florence Pugh and Morgan Freeman. Written and directed by Zach Braff, the film follows Allison (Pugh), whose life falls apart following her involvement in a fatal accident. As her life hits rock bottom, she strikes up an unlikely friendship with her would-be father-in-law Daniel (Freeman), a model train enthusiast.
My passion for model trains began in my childhood and evolved into a hobby business known as Deadhead Railways. It has allowed me to share the enjoyment of model trains with others. To me, creativity and attention to detail are foremost, but I never thought I would have a hand in bringing a movie to life on the big screen. My fellow train buddies and I pride ourselves on our expertise and precision work utilizing the latest technologies. We worked with professionals in 3D high-speed printing, laser cutting, and computerized sawing to make the finished product for the film. Our team, with our lifetimes of experience, came together to build this custom layout to fulfill the director's vision.
During research for this project, I learned that despite the advancements in technology and special effects, model trains continue to be a popular tool for filmmakers to create realistic train sequences. Some notable examples include North by Northwest (1959), Willy Wonka and the Chocolate Factory (1971), The Polar Express (2004), Hugo (2011), and Darkest Hour (2017). Although the use of model trains is often an overlooked aspect of the filmmaking process, I now understand its importance in the process of creating movie magic.
Building a layout for a motion picture was a new experience that was both inspiring and challenging. It was very different from setting up my own layout and those I have done for clients. I had to learn a whole new set of skills, from understanding the needs of the production crew to working with the director. Working with Zach Braff was a pleasure and an incredible learning experience. Zach visited my home and was eager to see my personal layout and talk about trains, as he had a strong affection for the hobby growing up. On set, it was interesting to watch him review the video playback of the footage and do several takes until each shot was perfect.
One of the most exciting parts of working on a movie set was the chance to work with a talented cast. Seeing them bring their characters to life and watching them create magic on the screen was truly inspiring. Being part of the team that helped a seasoned veteran like Morgan Freeman bring his performance to life was an unbelievable opportunity. I had the privilege of showing him how to run the train controls and familiarizing him with the workbench and hobby tools. In addition to his outstanding talent as an actor, he brought a sense of warmth and joy to the set. Whether he was cracking jokes or taking time to learn about model trains, he displayed an authenticity that makes him not only a great actor but also an approachable personality. Despite his status in the entertainment industry, he is incredibly humble and kindhearted, which has earned him my deepest respect and admiration.
Another highlight of working on the movie set was the camaraderie that developed among the crew. An atmosphere of teamwork and collaboration is necessary for any project to succeed, and each member plays an important role in bringing the story to life. In my experience, working alongside such a talented and dedicated team of professionals was a joy. Everyone brought their unique skills and expertise to the table, working together to create a truly remarkable cinematic experience. There was a sense of mutual respect that made it a welcoming and inclusive environment for all involved. I felt very comfortable working with such a great team that was dedicated to bringing this story to life on the big screen.
We designed the entire layout in HO scale to resemble a small town in South Jersey, where the movie takes place. My favorite part was the process of being creative in making the scenery and buildings look realistic and appear to be genuine landmarks and copies of actual buildings. Zach had specifically requested certain landmarks and structures that were key to the movie. Our model layout of South Jersey included a mountain in the foreground, the railroad station, a high school, a hotel, a library, a church, a duck pond, and the "hero house," which was the home that Daniel (Morgan Freeman) grew up in within the movie.
I kit bashed several model kits in order to make the "hero house," which had a prominent turret and a wraparound porch. A fascinating detail is that the hotel needed a removable roof so Daniel could hide his granddaughter's phone, which he took from her as a punishment in the film. The layout of the streets and town in South Jersey was specific to the request of the MGM movie staff. To create a realistic look, we weathered many of the structures and worked with paints and finishing details to enhance each part of the layout. In addition, we created the graphics and signage for all of the buildings, and some elements were made with 3D printers. Another fun fact is that the layout had to be made in a modular format to be transported to the filming location in New Jersey, which was a rented home with a typical 1950s basement.
We were also responsible for creating the set for Daniel's basement to resemble an actual train hobbyist's workshop. It was amazing to work with the set decorator and decorate the room to represent the time period and memorabilia from the character's life. MGM staff requested to use my personal workshop fixtures, benches, and tools, as well as many of my trains and train paraphernalia, to create the set. Their goal was to achieve an authentic look by using a bench and tools that are consistent with the hobby, showing visible signs of wear and use. Many of my train paintings, posters, and artwork were also used to decorate the set.
While working on any film, the hours can be long and require a lot of flexibility and adaptability. Shooting schedules can change at a moment's notice, and you might find yourself working long hours or adjusting to any last-minute changes. The pressure to deliver a quality product on time and on budget can be intense, and the physical demands of the job can be taxing. It requires a level of commitment that is not for everyone. For me, time was the biggest challenge. Two train buddies and I had to meet tight deadlines in constructing and completing the layout by scheduled film dates. We worked long hours on the layout for six weeks. There were also moments on set where the trains would short-circuit or derail, to which Morgan Freeman would say, "sh*t happens!" and we would all laugh. Nevertheless, we were always quick to respond and fix any of these issues to ensure that filming continued smoothly.
For me, despite the challenges, seeing your work come to life on the big screen is extremely exciting and fulfilling. It provides a unique opportunity to be part of a creative team that is dedicated to the art of film production. From the long hours to the sense of camaraderie, it is an unforgettable adventure. If you are passionate about film and storytelling, working on a movie set can be a dream come true.
Overall, working on A Good Person was a sincerely enriching experience, and I'm so honored to see MGM Studios use my work in this feature film. Seeing my trains and other memorabilia brought to life on the big screen was an incredible feeling that I will never forget. This opportunity allowed me to share my passion for model trains with a wider audience than I could have ever imagined. Model railroading is a wonderful hobby, and I hope this film inspires more people to give it a try and discover the joy of creating and operating their own model railroad. While I still spend a lot of my time working on my personal collection of trains, I am open to future opportunities to work on movies, knowing that there are always new challenges and adventures to be had in the world of film!
Article and photos in collaboration with Ruth Sobey and Kim Poulos Lieberz of KGI Design Group