"MTA, Going Your Way!"®
e*Train Issue: Apr 2019 |
Posted in: 1970-now Modern Era, Collecting, Railfanning
By Bob Mintz
(Article updated Spring 2019)
My earliest recollections of riding trains was going to visit my grandparents. Our route would go from one end of the system in the northern part of The Bronx to the other in the Crown Heights section of Brooklyn by elevated subway.
AUTHOR'S NOTE: DONESKY: see 30-74130 Freedomland 40′ Double Door Boxcar and 30-90045 Freedomland Lighted Billboard.
I have been extremely disappointed that Lionel only made Multiple Units and trolley cars, but never Subway cars. Considering that much of Lionel's customer base was and still is in the Northeast, this decision always puzzled me.
Seems that both MTH and K-Line feel somewhat differently, luckily for me.
I took the above pictures at Chambers Street in NYC, the once temporary terminus of the NYC Subways IRT 1 and 9, subway lines, just slightly north of the World Trade Centers.
This particular train was working on replacing the damaged tunnel walls and ceilings from the steel beams that had pierced it from the collapsing Twin Towers above. The roadbed on the recently re-opened train tracks now continues towards the South Ferry station, adjacent to the Staten Island Ferry.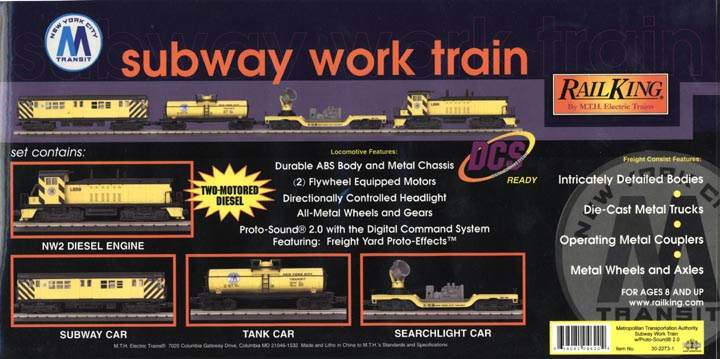 How delighted I was when I attended the 2002 Toy Fair and I pre-ordered the MTH 30-2273-1 MTA Worktrain in the special "2002 Toy Fair Brochure" catalogue.
Interesting enough, this set came in a plain generic box with only a label inside.
This set comes with a NYC MTA NW2 diesel engine; subway car; tankcar and searchlight car.
The MTH 2002 Volume 2 catalog included the following:
The MTH 2003 Volume 1 catalog included the following as an add-on to the original subway work train (30-2273-1):
Not to be outdone in this apparent NYC MTA craze, K-Line came out in their 2003 1st Edition with complimentary items such as the NYC Transit Double Dome tank car #K-635-8015; NYC Transit Crane & Boom 2-PAC #K-681-8011A with 2 road numbers (K-681-8011 & K-682-8013); and NYC Transit Ore car with 4 road numbers #K-671-8011.
MTH countered yet again in their 2003 Volume 2 catalog 30-7255 MTA gondola car/junk load and 30-79037 MTA subway engineering car.
MTH 2004 Volume 1 included 30-2273-3 R-17, a 2-car second add-on to the original subway work train and add-on (30-2273-1 & 30-2273-4) and 30-73108 MTA triple dome tank car.

MTH 2004 Volume 2 had the following:
MTH 2005 Volume 1 included a complimentary piece to the original 30-7992 crane car:
MTH 2006 Volume 2 included set 30-2728-1 and add-on 30-2728-3:
MTH 2007 Volume 1 included set 30-2758 and add-on 30-2758-3:
Thanks go out to the visionary marketers at both MTH and K-Line to finally see the light at the end of this particular NYC tunnel.
P.S. Speaking of York…
…what good would York be without me finding yet another Mintcar???
Mission accomplished thanks to John Trotta in the former Purple Hall RIP and his customized business. E-Train feature editor Jim Herron and I bought numbers 1 & 2 of 2.