Lionel FasTrack Modular Railroad
e*Train Issue: Jun 2017 |
Posted in:
Operating & Layouts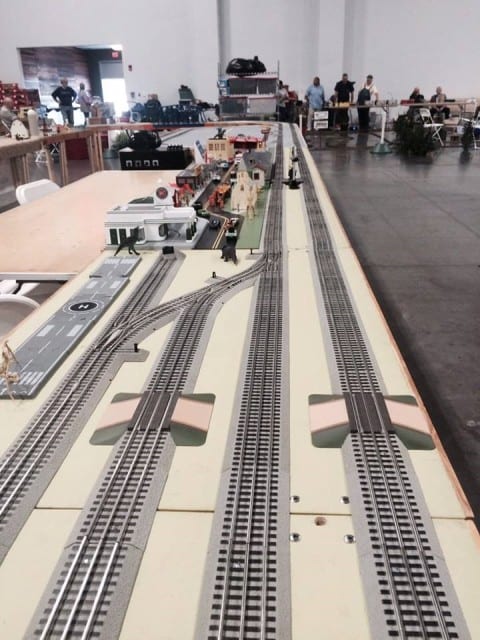 By Kevin J. Davis TCA 17-72699 Summer 2017
Copyrighted and published in 2012, the Lionel FasTrack Modular Railroad Specification Manual version 2.0 established for the first time a national O-gauge standard for building modular railroads. This modular railroad standard was a joint effort between Lionel and the Lionel Collectors Club of America (LCCA).

The first complete FasTrack Modular Railroad debuted in the summer of 2012 at the LCCA annual convention. Since that time several clubs and many LCCA members have built modules that conform to the FasTrack Modular Railroad Standard. A short list of clubs running FasTrack Modular Railroads includes: Kids Run Trains (Chesapeake, VA), Eastern Carolina Railroaders (Greenville, NC), Mohegan-Pequot Model Railroad Club (Mystic, CT), Golden Gate Model Railroad Club (San Francisco, CA), and Colorado Toy Train Group, (Denver, CO). The national standard design is flexible and allows individual variation within and between modules. In the five years since publication of the modular standards many examples of modular modifications and layout track plans have appeared on club websites and on social media.
The FasTrack Model Railroad Specifications Manual is available freely to everyone on the Lionel Collector's Club of America website, lionelcollectors.org. (Search "modular railroad" from the home page.) Version 2.0 of the manual, contains plans for four different module designs: 1) A Straight module that measures 45 inches long by 30 inches wide and carries two mainline tracks, 2) A Large Radius corner module that supports O-72 and O-84 curves, 3) A Large Radius Reversible corner that supports O-72 and O-84 curves, and 4) A Small Radius corner that supports O-36 and O-48 curves. Each of these modules can be built from scratch, built from kits (sold on the LCCA's webpage and on Lionel's on-line store), or they can be professionally built by companies such as TW TrainWorx.
FasTrack Modules are self-contained units that require no clamps to connect modules together. Instead, each module contains one or two rotating cam locks called Roto-Locks. These locks are commonly used in the construction of theatrical scenery and make an extremely firm connection. To ensure accurate placement of the tracks and cam locks, the Lionel FasTrack Modular Railroad Template is highly recommended and is available from the LCCA via Lionel's online store (Lionel part number 6-37150). Additionally, there are instructional videos of module construction on the LCCA's website, lionelcollectors.org.
The FasTrack Specifications Manual describes several ways that individuals can incorporate a FasTrack Modular Railroad into the hobby. First and possibly the simplest case is one where an individual model railroader owns a series of modules that are designed to operate together as a complete home layout. Or an owner of a permanent home layout can expand or modify an existing layout by adding modules. Another modular option is a group, large or small, that decides to lash together modules to form a larger layout. I tend to call this the club option. Finally, there are some owners of modules who have built entire layouts that conform to the specification manual and thereby allow their entire layout to be incorporated into a larger group or club layout. I have combined my home modular layout with the Kids Run Trains layout at a TCA regional meet, and there is a TCA member in North Carolina who frequently brings two of his home modules to be included in the Eastern Carolina Railroaders' FasTrack modular layout set up at the TCA Southeastern Division meet.
The specified table height for each module is 31″. The intended reason for the low table height is to allow smaller children to see and enjoy layouts without requiring to be held by an adult. The standard prescribes removable legs constructed of 2×2″ lumber. The use of 2×2″ lumber makes these legs relatively inexpensive to manufacture, allowing an individual to own two sets of legs, if desired. The first tall set can be used at home so that individually owned modules can be incorporated into personal layouts while the second short set conforms to the national standard.
For those who are interested in building FasTrack Modular Railroads as personal layouts that can also be operated as part of a larger club layout, it is highly recommended that the specifications manual be studied closely and thoroughly understood due to the additional engineering complexities required to develop power blocks and wire switch tracks for home use. These complexities can be greatly reduced if the layout will be operated by a command control system such as Lionel LEGACY, MTH DCS or NMRA DCC. All of these systems will run conventional locomotives.
Power distribution for FasTrack Modular Railroads is also prescribed in the national standard. The distribution backbone requires the use of 8-Gang Terminal Boards at each module and 8-wire molded connectors, with wires attached, at each module end. The 8-Wire molded connectors are similar to standard 4-wire trailer connectors found on nearly all trucks and SUVs. These connectors are durable, easy to connect, and feature three 12ga wires and five 16ga wires. The 12ga wires allow for 10A service to both main lines and common while the remaining wires are intended to feed accessories and smaller trains not on the main lines. The national standard specifies the circuit to be carried by each of the eight wires. By using terminal blocks and trailer connectors, the wiring of the modules is practically bullet-proof.
Depending on the particular module created, and any personal modifications, the average weight of a straight module is less than 25 pounds. The modules are well balanced making them easy to handle by a single person. Modules can be set up quickly at a train shows. A single module can be standing upright with all four legs installed, ready to connect to an adjacent module, in less than three minutes. The size of a straight module, 45 by 30 inches, allows modules to fit easily into an empty back seat of most sedans, even a compact car. This leaves the entire trunk open for TRAINS and scenery. Hatchbacks, SUVs, and covered pickup trucks have greater capacity to transport modules. The attached photo shows six modules stacked neatly into a Ford C-Max Hybrid. The ford C-Max is slightly larger than a Toyota Prius.
Within the FasTrack Modular Railroad Specification Manual there is an entire chapter dedicated to Track and Module Layout Plans, an appendix showing how to cut FasTrack to any required length, and an expanded FasTrack Size Table. A portion of the track plans section contains a "how to" describing how to fit two O-72 switches on a single module while maintaining the standard's required 6″ separation between tracks. (This page is also a great reference for anyone who wants to build a passing siding for trains pulled by 1:48 scale articulated steam locomotives.) The module plans section shows module arrangements for six different modular railroads. These plans include: L-Shape, U-Shape, Modified Oval, and two Dog-Bone configurations.
It is important that modular railroads not be viewed as a layout solely for displays or mobile set ups. Several hobbyists throughout the years have constructed modules as part of home layouts with highly detailed scenery. Modular systems are attractive for those who move frequently, rent their homes, only set up layouts temporarily, or just want the flexibility to reconfigure their layout whenever they desire. In two years of operating the FasTrack Modular Railroad at train shows I have found that everyone who becomes involved with the Lionel FasTrack Modular Railroad finds great enjoyment combining modules and running trains in places where other people, young and old, can share in the enjoyment. Perhaps the greatest benefit of participating in a modular railroading experience is the excitement of partnering with other model railroaders to share experiences and operate trains together. Try building a FastTrack module so you can share in this experience yourself.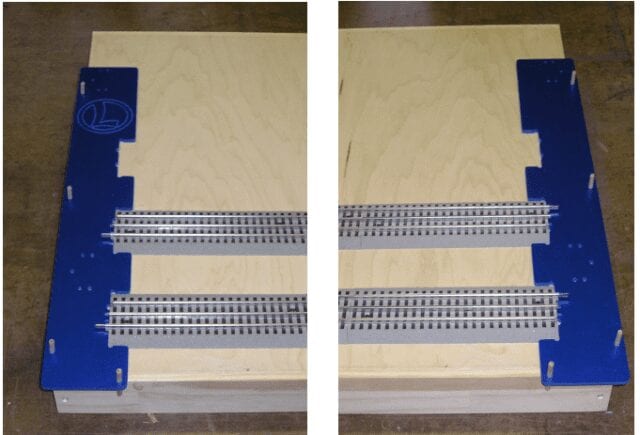 The Mohegan-Pequot Model Railroad Clubs' Lionel FasTrack Modular Railroad as it existed in January 2015. Consisting of six modules, it entertained the children of all ages with three vsitor controlled locomotives and ten operating accessories.