JLM Trains Reproduction of Lionel Standard Gauge #17 Caboose
e*Train Issue: Jul 2002 |
Posted in:
Toy Train Paper & Auctions
Review by Bradley Kaplan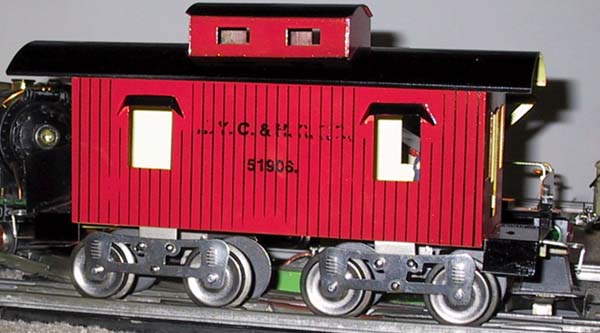 Lionel 10 Series Standard Guage freight cars are common pieces seen at most train shows and on E-bay. They were manufactured for 20 years from 1906 through 1926. Few of these pieces command an investment over $150. A caboose seldom sells for more then $75.00.
However, what some people may not realize is that in 1911 Lionel completely redesigned pieces like the 17 Caboose. From 1906-1910, the caboose was hand made. Each wall was soldered in place. Rain guards were soldered to each window. As production increased Lionel improved the design to reduce hand labor. In 1911 this meant a complete redesign of almost the entire Standard Gauge line.
This early version of the Caboose, or any freight car, from 1906-1910 is almost impossible for collectors to find. In the York April 2001 meet I did not see any of the early freight cars. If you find one of the early 10 series freight cars they can command over $500 in "good" condition. The early caboose is completely different then the latter design. The only part that may be shared between the early #17 Cabooses and the ones manufactured after 1910 are the wheels and coupler. The trucks were even simplified in design in 1911 changing from 3 rivets to 1 rivet on each side.
This is were Joe Mania with his company JLM Trains steps in. Joe makes a reproduction of the 1906-1910 Standard Gauge line. JLM Trains' #17 Caboose is a 100% reproduction of the original. No detail was spared. Joe told me before he made the caboose that the body detail (stripes, number and "NYCHRR" stamp) would not be perfect. It is a huge rubber stamp, and Lionel never stamped them perfect so he was not going to make his perfect.
The inside and bottom of the original #17 Caboose was painted a cream color. Joe painted his caboose in the same manner with proper colors. The original #17 had two benches and a pin for one of the early "trolley people" to sit on. Joe reproduces this detail perfectly and provides a reproduction trolley person that he cast from a mold. Joe made the mold from an original Lionel trolley person.
This freight car was the second piece of my reproduction of an early Lionel Standard Gauge set ordered from JLM Trains. My first piece was the #7 Brass Engine. I am just as satisfied with the caboose as I was with the engine. (Click here to read the review of the engine.) I am now waiting for my #14 box car and #12 Gondola to finish the set. That is another thing. JLM Trains does not mass produce the pieces. Every piece is hand built just like the originals. Joe does not maintain an inventory. Everything is built to order. You will receive your order as each piece is built. You do not pay for a piece until it is finished.
If you want reproductions of Lionel's 2 7/8 inch line, you are in luck. In the same style that Joe makes the reproduction Standard Gauge pieces he also makes the 2 7/8 inch line. Everything is 100% authentic.
For ordering details or more information, visit Joe's web site at www.jlmtrains.com. E-mail Joe Mania at [email protected] or call him at (732) 303-8299.