In Search of a Train Shop
e*Train Issue: Jun 2018 |
Posted in: Collecting, Hobby Shops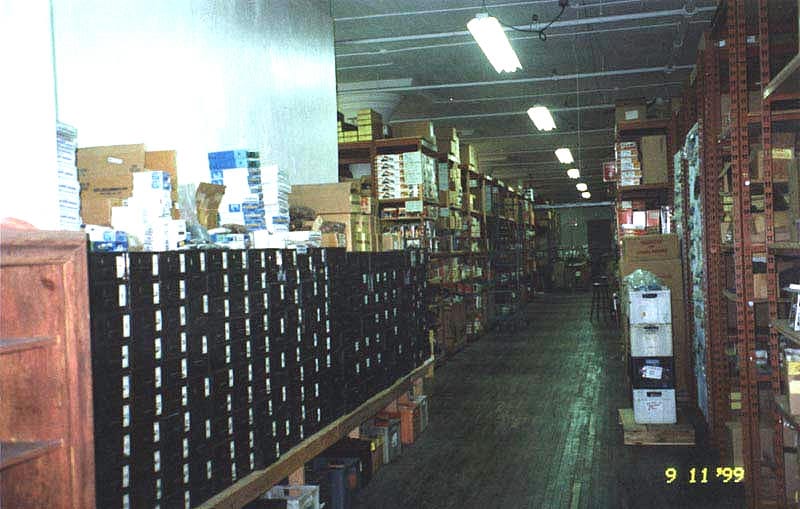 By Chip Kessler, 93-38197 Summer 2018
For those of us in our 60's and above, there are things from our youth that are no longer around, or in very short supply. With some exceptions, the old-time train store is one of those lost gems of years-gone-by.
I'm talking about that place which exclusively sold model trains; maybe it had several gauges of trains but the one and only product was trains. Oh sure Madison Hardware could make you a key, however it was a train store. I lived in New York City in the late 70's and early 80's, wasn't into trains back then so I never visited Lou and Carl … a major regret! What the heck, I was in college so I didn't have money to buy anything, so they probably would've thrown me out of the store from what I've read about them. That said, for some reason the place fascinates me so I read everything I can get my hands on about Madison Hardware; Derek Thomas' outstanding book is a must-have!
Madison Hardware was at 105 E. 23rd Street. Interestingly there were two other train stores on 23rd Street in Manhattan back in the day: Savoy Merchandise Company, and also Julie's Trains. From what I gather, these shops apparently specialized in American Flyer so in a way they were the anti-Madison Hardware. In fact, Julie's was a block away at 40 E. 23rd Street and Savoy was at 12 W. 23rd Street.
When I first entered the hobby in the early 90's, there were still five local hobby shops selling trains. Four of them were pure train shops, the fifth as I recall also sold model airplane kits. Today, there are zero in my immediate area, Johnson City, TN and it's sad. The most unique of these establishments was located on the grounds behind an auto body repair business here in Johnson City, TN. The late TCA member, Jack Miller (Ralph J.), TCA#77-11855, ran both the auto body shop and the train store. I'm sure many of you knew Jack. He was quite the character!
During the week, you'd go into the body shop, see if Jack was free, and he'd take you back to the train shop, which was otherwise closed. Quite frankly, I can't recall a time when Jack wasn't free. He preferred to talk model trains, and sell you a train item rather than deal with a busted fender or a smashed-in car door! Saturdays though was just train stuff. The body shop was closed and you drove alongside the building on a gravel road, the big gate was unlocked, and the trains awaited in the open store in back. Jack mainly carried Lionel, though when Mike's Train House came out with items in the 1990's, Jack was a major proponent of MTH offerings as well. He also carried a good amount of G Gauge.
I'd go most Saturdays for a number of years before I foolishly got out of the hobby around 2003. That was the year I sold my collection of Lionel and MTH engines, rolling stock and passenger cars, along with the table my late father-in-law, a retired carpenter, built for me. When I came to my train hobby senses a few years ago, not wanting to re-trace what I'd previously did, I went with S Gauge, in particular American Flyer from the 1950's.
One more note about Jack Miller's train shop. Right before I'd left the hobby, he decided to relocate the business to an actual store front that he owned on the street above his auto body shop. I believe it was a fabric shop or something along those lines. And while it was still a model train store, some of its personality was lost. I guess it's because the surroundings made things seems as if it was now an actual "business" and not something housed in a back building. Before you had to really search through the piece-meal shelves to spot what Jack had for sale because of the dim lighting. More than once I'd miss something, only to walk around, return to the same spot and discover a boxcar or an accessory of interest. Once things were relocated there was your standard shelving and things were more neatly arranged, plus you didn't feel as if you were looking through a cave for your next find.
Nevertheless it was trains! Today, like the other local shops, Jack Miller Train Shop is gone. I know that some of you reading this in different parts of the country still have the luxury of such establishments. I don't have to tell you to not take them for granted; they are a vanishing breed!
Fortunately there are still train shows nationwide. We just had the 3rd Annual George L. Carter Railroad Museum Model Train Show here in Johnson City on the campus of East Tennessee State University. It's held in a former indoor football stadium housing some 64,000 square feet of space for dealers and other show goings-on. Some 60 vendors took part with over 300 tables of trains and train related merchandise for sale. All gauges were represented. Plus there were several operating layouts, including live steam.
Certainly E-bay has become a force in the buying and selling of model trains. However there's still something to be said for seeing and touching what you want to potentially purchase, such as experienced twice a year at York and at other TCA meets nationwide. The local train shop was another means to review what was available; just today not as much. Too bad!