Feeney's 2017, Philadelphia's Best Christmas Store
e*Train Issue: Jan 2018 |
Posted in: Collecting, Hobby Shops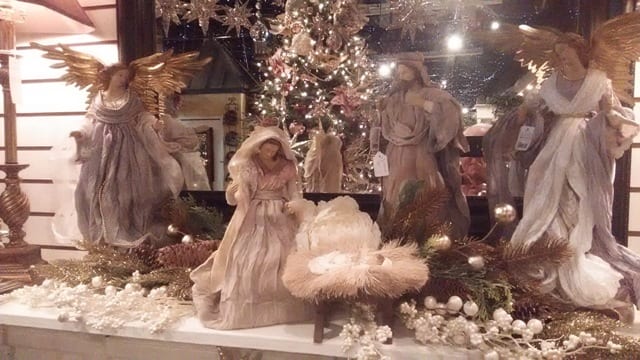 By JS Halajko, TCA 84-20653 Winter 2018
Editor's Note: Christmas shopping stories typically involve recollections of visiting department stores, with their train displays. Here, our distinguished member has ventured to a local source of inspiration and wonderful things to put around the tree. JS and Joanie found several of the trees had trains! See if you can find them in these pictures.
My wife, Joanie, and I took an early holiday trip to Feeney's Open House in November 2017. The photos that follow are from our adventure to Philadelphia's Best Christmas Store, where you can find wonderful Christmas decorations and the knowledgeable staff who can help you place your favorite item into your tree. The photos represent a sample of their work.
The link at the end of the article has over 100 photographs that I shot at their store.
I hope you enjoy the pictures and the spritit they represent as much as we did.
Here is a sample of their life-sized displays:
You will find some trains and train related items throughout the store.
HO HO HO!
During the Open House they do great presentations where you can learn how to put a rocking horse, Department 56 Building or your favorite gift into your Christmas tree. Tree support is paramount. I recommend using a piece of plywood at least 36″ by 36″ to reinforce the tree stand to prevent the tree from toppling over. Mine came from the leftover 3/8′ plywood from Layout III.
Holy Cow, they even show you which LED lights can be stepped on without damage.
So, take a relaxing break and make it to Feeney's early in the Christmas Season of 2018.
Santa will thank you!
Here is a link to more pictures: http://pix.sfly.com/CFrgFRNE. You can join Shutterfly for free to print the pictures or view the slideshow.