Window Display and Animated Window Display Cars
e*Train Issue: Jun 2023 |
Posted in: 1970-now Modern Era, Collecting, Past e*Train Issues
By Bob Mintz, TCA #92-35064 Updated Spring 2022
We have here an opportunity to help STANDARDIZE some formal categories within the hobby.
Since I was blessed with my last name, it would only make sense that I collect mint cars. Unfortunately, the collection did not stop with this series. The next obvious step would be aquarium cars.
I just received my Lionel freebie US Savings Bond car that is classified as a mint car.
Question is, is this really a mint car?
Should mint cars only be those that contain bullion or can we include paper currency too? Is a savings bond a form of currency?
If not, what should a paper type currency car be called?
Should aquarium cars only include fish or other underwater creatures?
If we consider mintcars to only be those that include either a paper or bullion currency, what do we do about the so-called "mintcar/aquarium style" load cars?
Stu Rankin has suggested that we split these into two categories as follows:
"Window Display Car"–Mint-type car containing a fixed/static non-bullion load.
"Animated Window Display Car"–Aquarium-type car where the moving scene is something other than the little fishes.
I would define a mint type car as one that has a vault plate door with combination lock; handle; and tri-spoked wheel; while an aquarium type car would contain either a vibrator or other motor or truck driven gear system that moves a continuous sprocket type film belt.
Of course, there are exceptions to every rule and this category is no exception. #16757 Johnny Lightening car hauler, which is clearly a mintcar by my definition, has the marking "3435" on it, which is the number of the original aquarium car. #52188 Carail 25th Anniversary Car Hauler with two autos does not have a moving film belt, but has an aquarium body.
Oh well, that is what makes this hobby so interesting.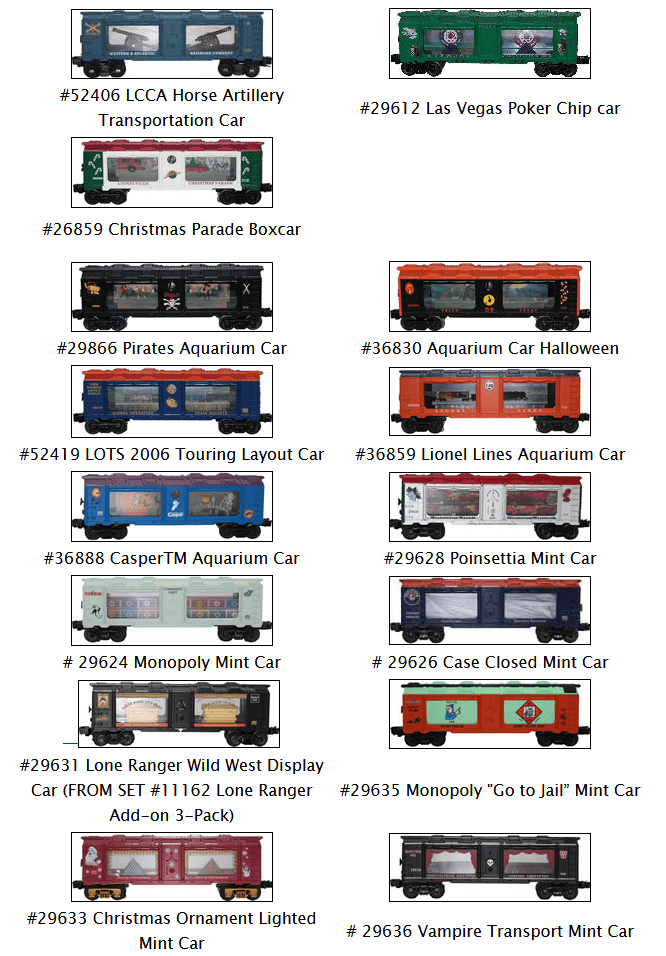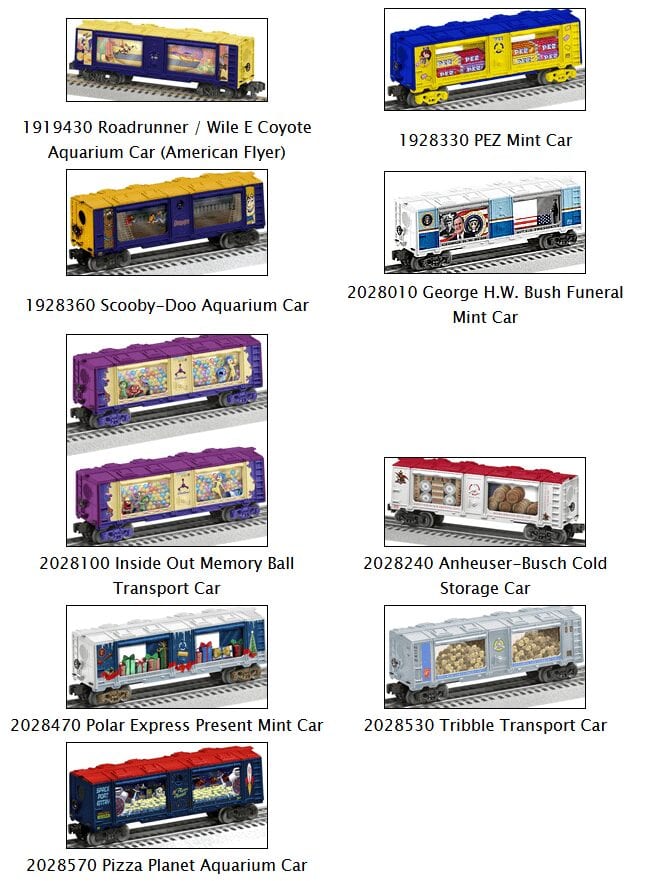 WINDOW DISPLAY
2228120 Christmas Parade Aquarium Car
2323072 Wonka Bar Car from 2323070 Willy Wonka & The Chocolate Factory LionChief Bluetooth 5.0 Set
2328110 DC The Flash™ Action Mint Car
2328280 THE POLAR EXPRESS™ Sleigh Bells Mint Car
SIDE A
SIDE B
2301130 2023 LCCA On-Site Convention Car
This unique car highlights the 2023 LCCA National Convention bringing together the LCCA, Lionel and NASCAR in a well-designed format of a Lionel Window Car. The car, in black with a red roof, proudly shows the checkered flags of NASCAR surrounding images of a NASCAR race – and as reflecting a real race, changing images in windows on either side. The black door identifies the car as the 28th in a series of LCCA Convention on-site cars and identifies the 2023 Convention in Concord, NC, the home of Lionel. The easily recognizable Lionel "L" on the door completes the link of Lionel with its NASCAR die cast division and Lionel Trains, and the 2023 LCCA Concord Convention. This car with silver trucks has the Lionel SKU #2301130.