The History of Dayton Ohio Toy Makers: A Book Review
e*Train Issue: Jun 2020 |
Posted in: Past e*Train Issues, Toy Train Paper & Auctions
By Lori Nyce, TCA Librarian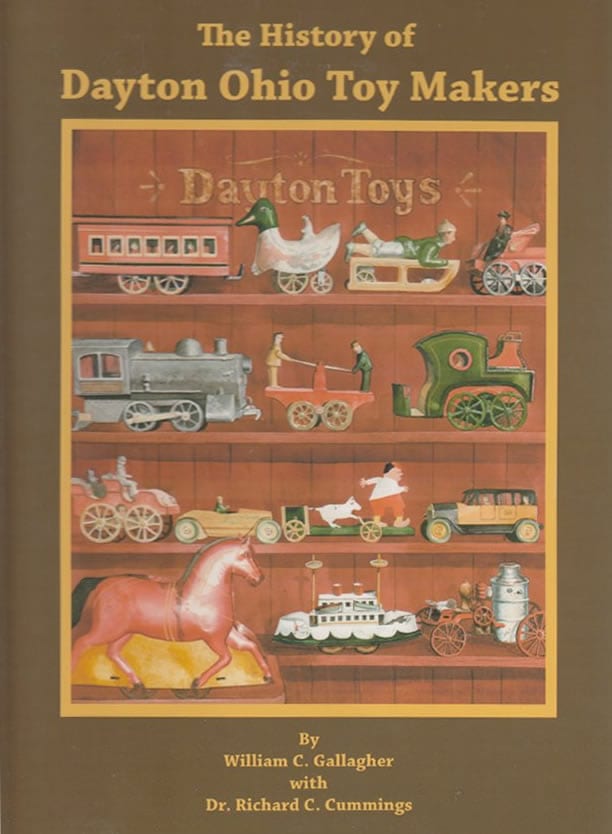 One of the many toy books in the library's collection is The History of Dayton Ohio Toy Makers by William C. Gallagher and Dr. Richard C. Cummings. I have used this book on several occasions to help identify friction or flywheel-powered toys such as Hill Climber locomotives. It is a detailed and comprehensive look at the great toy industry that began in Dayton, Ohio at the turn of the 20th century.
The book examines toys made by 38 companies in Dayton, from the well-known friction toys of D.P. Clark and Schieble to Flips and Flops, a catapult toy patented by Orville Wright. Heavily illustrated, the book includes hundreds of photographs and patent information, based on in-depth research and the combined toy collecting experience of Gallagher and Cummings.
The library also owns two additional books written by Gallagher: Japanese Toys: Amusing Playthings from the Past, and Modern Toys from Japan 1940s to 1980s.
If you are interested in the development of friction toys, you may also want to read the article, "The Boyers' Locomotive Toy," written by Raymond A. Spong, former President of the Antique Toy Collectors of America (ATCA). In 1897, Israel Donald Boyer and his wife, Edith Boyer, patented an American toy using a flywheel as its motive power. This American patent was the foundation of the development of the friction toy industry in Dayton, Ohio.
The article was published in the journal Technology and Culture (Vol. 13, No. 3) and is available to read online on the JSTOR website. Individuals can sign up for a free personal JSTOR account and read a select number of articles online. To access this article and more, register for a free account here: http://www.jstor.org/stable/3102490.
From the website of the Antique Toy Collectors of America, you can also access the document, Flywheel Powered Toys, written by Raymond and Neldred Spong and a reproduction of a 1929 Dayton Friction Toys catalog.
For more information about The History of Dayton Ohio Toy Makers, check out the articles below from the Dayton Daily News:
"Dayton's Toy-Making Past Lovingly Captured" by Sharon Short
Dayton Daily News (June 16, 2013)
"Toys Were Once a Serious Business Locally" by Lisa Knodel
Dayton Daily News (April 9, 2014)