More "Ore !" Lionel® Adds to Its Roster of Catalogued and Uncatalogued Ore Cars
e*Train Issue: Apr 2019 |
Posted in: 1970-now Modern Era, Collecting
By Joel Fugazzotto
Updated by Bob Mintz
(Updated Spring 2021)
In the March 2004 edition of e*Train, I identified a total of 67 ore cars produced by Lionel since 1984 when they first introduced this short, stubby, non-operating car under the Soo Line and PC heralds.
Of the 67 ore cars that rolled out over this 20-year period, 16 uncatalogued cars were made for the Gadsden-Pacific Division of the TTOS and one for the Lionel Railroader Club.
Since my first article, Lionel has produced a trainload of catalogued and uncatalogued ore cars. Here are the nine new ore cars added to the lineup in a little over one and half years:
New Catalogued Production:
This is the fourth "all ore car set" produced by Lionel. The others were the 11912 #57 Lionel Steel Service Exclusive Set in 1996, the 11837 Union Pacific GP-9 Unit Train in 1997, and the uncatalogued 11982 NJ Transit Ore Set in 1998.
Club Cars:
LOTS
In celebration of its 25th Anniversary in 2004, the Lionel Operating Train Society (LOTS) issued a specially designed, uncatalogued two-car ore set to its members. The 52359 was numbered 1979, the year LOTS was founded, and the 52360 was numbered 2004 to commemorate LOTS 25th year. These silver and black cars each carry a silver load on sprung silver painted trucks . A 25th Anniversary logo is prominently displayed on the sides. These uncatalogued cars were delivered in 2005. Rumor is that LOTS may follow-up with two more ore cars. For availability, you can contact LOTS at: http://www.lots-trains.org
TTOS–Gadsden-Pacific Division
Continuing its yearly offerings of uncatalogued ore cars since 1988 that bear the colorful names of Arizona mines and mining railroads, the Gadsden-Pacific Division of the TTOS issued the 52358 Ajo & Southwestern RR ore car in 2004 and is producing the 52386 Ray & Gila Bend RR ore car for December 2005 delivery. For availability of these and previous year's offerings, write Gadsden-Pacific Division, TTOM, Ltd., PO Box 85425 , Tucson , AZ 85745-5425 .
The numbers keeps growing.
So as of the end of 2005, Lionel has now produced a total of 76 catalogued and uncatalogued ore cars. I'm looking forward to next year's offerings.
There's one additional note on ore cars before I close. In the past two years, at least 25 customized Lionel ore cars have been created and sold to collectors and the general public. I will introduce you to these unique cars in a future article.
*ASF = ASF strong arm trucks
*SMT = Sprung metal trucks.
The Virginia & Truckee Railroad was built to serve the Comstock Lode mining communities of northwestern Nevada. The railroad's route ran from Reno south to Carson City, Nevada, where the main line split into two branches. One branch continued south to Minden, while the other branch traveled east to Virginia City. The first section, from Virginia City to Carson City, was constructed commencing in 1869 to haul ore, lumber and supplies for the Comstock Lode.
To commemorate this time in our nation's history, LOTS is proud to offer a set of Lionel manufactured Virginia & Truckee Railroad Ore Cars. The O-Gauge car features die-cast sprung trucks, operating couplers, a simulated silver load and is 6 5/8″ long. The ore cars are being offered as a set (two separate numbers) for $99 plus s/h, or individually (car # our choice) for $57 plus s/h to LOTS and TTOS Members.
Please purchase your cars, limited to two sets per registered Member, at the same time you register for the Convention in Reno. Registration forms are to be submitted to LOTS directly and only 600 (300 sets) of cars will be produced. Anticipated delivery: September 2013. A postcard will be sent notifying you of the exact date of shipping after we receive the cars from Lionel. Lionel Operating Train Society 6376 West Fork Road Cincinnati, OH 45247 513-598-8240
www.lots-trains.org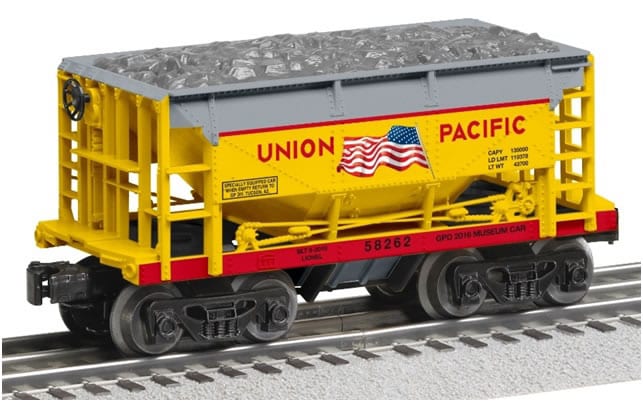 The Colorado Silver Boom was a dramatic expansionist period of silver mining and narrow gauge railroad activity in the late 19th century. The boom started in 1879 with the discovery of silver in Leadville, CO. Over 82 million dollars worth of silver was mined during the period, making it the second great mineral boom in the state, and coming twenty years after the earlier and shorter Colorado Gold Rush of 1859. Horace Tabor made (and lost) a fortune in the silver mines during Leadville, Colorado's boom days, becoming one of the most famous of the Colorado Silver Kings. Although Tabor's first silver discovery wasn't the Matchless Mine, its story remains as one of the most famously documented tales about the Silver King's mines in the entire country.
To commemorate the Colorado Silver Boom and our visit to Leadville during our 38th Annual Convention, LOTS is proud to offer a set of Lionel manufactured D&RGW "Matchless Mine" Ore Cars. The O-Gauge ore cars feature die-cast sprung trucks, operating couplers, a simulated silver load, and are 6 5/8″ long. The ore cars are being offered as a set (two separate numbers, limited to three sets per Member) for $110 plus $13 S/H on a First Come, First Served basis. Only 300 sets of cars will be produced. Anticipated delivery: December 2017.
2018:
2019:
LIONEL SANTE FE ORE CAR 6-PAK
OFFERED ONLY BY METROPOLITAN DIVISION TCA (METCA)
METCA is excited to offer this value priced 6-pack of Lionel ore cars. Each car features a unique road number and different graphics on each side of the car; the Ship and Travel slogan on one side and the Shock Control slogan on the other. Cars feature die-cast (non-sprung) trucks, ore loads, and metal brake wheels. The 6-pack of cars is packaged into one set box. Individual cars do not have individual boxes. Only 200 are scheduled for production. Order now. Available exclusively from METCA Division. Orders for 3-packs will be filled as inventory allows.
6-Pack @ $159 (Red, Black, Brown, Blue, Green, Orange)
3-Pack @ $99 (Red, Brown, Green)
3-Pack @ $99 (Black, Blue, Orange)
TO ORDER ONLINE:
http://www.metca.org/store.html