Mintz's Mint in the Box Mint Cars
e*Train Issue: Sep 2022 |
Posted in: Collecting, Combined Eras
By Bob Mintz TCA# 92-35064 updated Fall 2022
*Here is a NEW chart with pictures (9/12/22) Mint Car Chart
Associate Authors and Contributors and Assistance by: Mike Stella, Newt Derby, Stuart Rankin, Joe Endicott, Shannon Sikora, Charles Janiga, Bill Fessenden, Allen Glenney, Dr. Joseph Lechner, Al Otten, Bill Schmeelk, Dennis Clad, Matt Irvin, Jon Bonds, John Trotta, Carol McGinnis, and Ron Stowell.
Now over fifteen years in the making and updating, the saga of mint cars continues to grow. Bob Mintz anticipates a major revamping of this authoritative favorite in an upcoming edition. As the author credits above show, he has been aided on the monumental trek by many fellow members. It is this attention to carefully researched writing and personal commitment that distinguishes TCA in the world of toy trains.
A LITTLE HISTORY ABOUT MINTS:
From https://www.usmint.gov/learn/history/overview
United States Mint
"The Congress shall have the Power…To Coin Money." (Constitution of the United States, Article I, Section 8.)
When the framers of the U.S. Constitution created a new government for their untried Republic, they realized the critical need for a respected monetary system. Soon after the Constitution's ratification, Secretary of the Treasury Alexander Hamilton personally prepared plans for a national Mint. On April 2, 1792, Congress passed The Coinage Act, which created the Mint and authorized construction of a Mint building in the nation's capitol, Philadelphia. This was the first federal building erected under the Constitution.
President George Washington appointed Philadelphian David Rittenhouse, a leading American scientist, as the first Director of the Mint. Under Rittenhouse, the Mint produced its first circulating coins — 11,178 copper cents, which were delivered in March 1793. Soon after, the Mint began issuing gold and silver coins as well. President Washington, who lived only a few blocks from the new Mint, is believed to have donated some of his own silver for minting.
When the United States government began minting coins in 1792, the original Mint facility in Philadelphia was hard-pressed to produce enough currency for our small country.
As the country grew and the demand for coins increased, it became necessary to expand Mint facilities. This expansion was further fueled by the discovery of gold, first in the Southeast and later in the West, and by the need for hard currency, which caused people to mint their own gold coins. In the mid-nineteenth century, additional mints were opened in Charlotte, NC; Dahlonega, GA; New Orleans, LA; and San Francisco, CA. In 1870, the Carson City, NV Mint opened, and in 1904 the Denver, CO Assay Office became a Mint facility. After the Civil War ended, many mint facilities and assay offices were opened in places like Carson City, St. Louis, Seattle, Boise, Helena, Deadwood, Salt Lake City, and New York. Many closed in the early 1900s because better technology and transportation made them unnecessary.
Today, in order to keep our economy flowing smoothly, the U.S. Mint maintains facilities in Philadelphia, Denver, San Francisco, and West Point, and a bullion depository in Fort Knox, KY.
See List of Mints and Related Federal Government Offices
Bureau of Engraving
"The establishment of the Bureau of Engraving and Printing can be traced as far back as August 29, 1862, to a single room in the basement of the main Treasury building where two men and four women separated and sealed by hand $1 and $2 United States Notes which had been printed by private bank note companies. Today there are approximately 2,500 employees who work out of two buildings in Washington, D.C. and a new facility located in Fort Worth, Texas."
A LITTLE HISTORY ABOUT MINTZ:
[I would like to dedicate this article to the memories of my father Harry Mintz and grandfather Nathan Miller, both of whom had absolutely no idea what they started with the purchase of a simple toy present for a then four year old, and are now playing trains hopefully with the likes of Joshua Lionel Cowan]–bob
It seems that both TCA and I will be sharing a 50th Anniversary this year.
I never figured that my last name would have any significance with my hobby/obsession. Little did I know that this particular area of collecting would take on a life of its own, as this photo taken at the Central Operating Lines Ltd. in Ronkonkoma L.I., New York shows.
My ancestral roots can be traced back to Vienna, Austria for all four grandparents. I did a little research and there was a town or region in Germany known as Mintz, not the Russian town of Minsk, as some of my childhood friends would tease me about. Similar to Italian surnames, many Germanic last names were derived from either the area that you originated from or your occupation; i.e. Miller (my maternal grandfather). One would imagine that metallurgy may have been done in the area of my paternal relatives.
A LITTLE HISTORY ABOUT THE MINT CARS:
A mint-type car is first seen in the 1961 catalog on page 31, with a divine-like hand depositing a coin from the heavens into the coffers of the new #6445 Fort Knox Gold Bullion Transport Car through the slot in the roof. This bank was made from the #3435 aquarium car mold. The car was part of set #1649 "027" 5-car "Santa Fe" two unit diesel freight. One would need divine intervention to be able to afford the constant onslaught of mint cars in the distant future.
Retrieving money from this vault would prove difficult for a small child as a Phillips-head screw would need to be removed from one end of the car. Who knew from a Phillips-head screwdriver back when you were 4? And who would allow a 4-year old to play unsupervised with ANY type of screwdriver back in 1958? What 4-year old had "change" back then for that matter. Back when Dad could have been feeding them into an apparatus for serving foods mechanically, when the coin was dropped in the slot of your local Horn & Hardart's Automat?
This would not be the first car to be a piggy-bank, as page 25 from the same catalog would show the new # 6050 savings bank car, or a "safe" or vault type car as Lionel LLC would later re-issue 6-19439, a remake of a Standard gauge piece.
Not to exclude Super-"O" track ("the very best"), a second set #2571 Super "O" 4-car Ft. Knox Special steam freight was produced. The copy mentions "Worth its weight in gold! Stacks of gold bullion are being transported to the vault for safe keeping. Because the cargo is so valuable…a helicopter has been assigned to serve as an "advance scout.""
How curious that a helicopter car would be pulled by a die-cast steam loco!
Page 52 would show our silver colored car as a separate sale item retailing for $5.95 including copy mentioning: ""see-thru" windows which display rows of simulated gold bars on their way to Ft. Knox for safekeeping."
Truth in advertising laws being many years in the future, was there ever a reason to think that these were actual gold bars? And why "advertise" its contents to the world at large?
The 1962 catalog on page 20 shows #13036 Super "O" 6-unit "Plainsman" steam outfit with an incorrectly red-colored bullion car (to be made by Lionel, LLC down the pike as #19677). The 1962 catalog copy stated:
"Right from the pages of history! The "General" is racing east with a valuable load of gold stored in the specially designed Gold Bullion Car. Outlaws have attempted to hold up the train and an exciting gun battle is raging between a lawman and one of the outlaws."
Again, I am writing this in the more politically correct 21st century, but what exactly IS exciting about a gun battle anyway, especially when bullets are whizzing by your head? This is what you get when you publicize the contents of your rolling stock to the likes of the Frito Bandito.
I am not sure which editions of The Encyclopedia Britannica were used by those copywriters in 1962, but the bullion depository that was built at Fort Knox, Kentucky by The U.S. Bullion Depository did not open until 1937, a tad after wood-burning steam engines most likely were still in service! They did get the fact correct in that the first shipment of gold WAS brought in by railroad, but hopefully NOT by a General-style locomotive.
Interesting how an ad for No. 1063 and No. 1044 transformer would have set #13036 in it without the mint car, but in the ZW ad on the next page, the Texas Special set #11252 has the correct silver mint car in it, and a hodge-podge of other rolling stock.
A surprise entry in the 1962 catalog would be an HO version in set #14084, although the General has now been replaced with what looks like a miniature Santa Fe F-3, but those sheriffs and outlaws still abound in those Warbonnet days. Historically, this is also incorrect as GM EMD completed the earlier FT103 which began an 83,764 mile tour on November 25, 1939, nearly two years AFTER Ft. Knox opened.
Ironically, the "NEW!" #0845 HO Gold Bullion transport car, which shared the same body shell as #0872-200 REA reefer, sold for the very same "bigger guy" price of $5.95, also as a separate sale item.
The #6445 was shown in both O/027 and HO versions as a separate-sale item again for the last time in 1963; only as a separate-sale HO item in 1964; in 1965 & 1966 (and supposedly in 1967 when the 1966 catalog was used again) when the retail price of #0845 increased a nickel to $6.00. No HO sets were made in the remainder of the Postwar years 1968 and 1969.
This seemed to be the beginning and conclusion of mint cars series, or so we thought.
With the advent of personal computers and databases, the word "MINT" would have conflicting definitions in the train collecting/operating populace, as the title of this piece suggests. A search of the word "MINT" may come up with the TCA DESCRIPTION/GRADING STANDARDS of MINT as: "Brand New, absolutely unmarred, all original and unused." Or a field in the database may describe ANY piece that you have in MINT condition, and a data "sort" of your mint car collection would be corrupted by these precious pieces.
Nevertheless, the accepted term for the original #6445/0845 Gold Bullion transport has been Mint Car. After all, the interchangeable "load" has been made in gold, silver and even "platinum" (looks silver to me) schemes, and sold in the after-market both with and without an official TCA coin.
"Lionel Philanthropy":
The Lionel Corp. had sponsored train layouts in New York's Grand Central Station for several charities such as the Fresh Air Fund.
It is believed that sometime during the early to mid-sixties, possibly 1964, the Lionel Corp. was a sponsor for another aid organization, "Junior Achievement", started in 1919 as a collection of small, after-school business clubs for students in Springfield, Massachusetts.
During World War II, enterprising students in JA business clubs used their ingenuity to find new and different products for the war effort. They even obtained badly needed scrap iron by using acetylene torches in abandoned locomotive yards.
Students were taught how to think and plan for a business, acquire supplies and talent, build their own products, advertise, and sell with the financial support of companies such as The Lionel Corp.
Several groups sold savings banks made from the mold of the #6445 Fort Knox car, which was painted gold instead of silver, and mounted on a wooden base.
As a sign of things to come for collectors, of course there exists at least two variations of the corporate entity's name of this sponsorship; "JANELCO", which was most likely the Junior Achievement and LioNEL Company, and "JALICO" which could be Junior Achievement and LIonel Company.
No mint cars would be manufactured from the Postwar period until 1979, when #9320 came in a special box with the rest of the #1970 Southern Pacific set, headed by the #8960 SP U36C. It was painted silver over a clear plastic shell and as with its predecessor, the bullions were painted gold. The wheels on the rolling stock of this set where all die-cast and hollow if you look in the back of them, then they were zinc plated to give a shiny look, and are frequently found pitted because of the reaction with dampness. Regular wheels are made by a powder metallurgy process and these type of wheels are compressed under heat and pressure, to form a solid wheel, where the axles are coming through, the wheel is solid.
A form of "Midnight Madness" occurred by some employees at Lionel, and several of the unpainted shells made their way into collector's hands.
Wellspring Mint Car By Stuart Rankin
In 1999, Lionel cataloged the #19667 Wellspring Mint Car. This car was manufactured in May 1999. Later that year, Lionel's parent company, Wellspring Capital Management (Wellspring Associates) wanted to give their employees and investors a Christmas gift. Wellspring decided to give out the #19667 Wellspring Mint Car, however, by this point, Lionel was sold out of the #19667. To fulfill Wellspring's order, Lionel needed to produce a second run of Wellspring Mint Cars. Although Wellspring was expecting the regularly cataloged version of this car, the second run was slightly different than the first.
A new 5-digit SKU number needed to be assigned to the Employee Version. Lionel choose #19673 to keep track of the additional work of setting up the special run, the operation of packing each car in its own individual mailer, and for the inclusion of the Wellspring corporate Christmas card in the package. While the exact quantity of #19673s is not known, it is believed that only a few hundred were produced.
Of course, even though the two items were supposed to be identical, anytime things are manufactured 6 months apart, there are bound to be some differences. While these comparisons are far from exhaustive (2 of each version were compared), the findings were consistent. On the box label on the #19667, the word Wellspring is incorrectly printed as two separate words (WELL SPRING), however the spelling was corrected on the #19673 production run (WELLSPRING). While Lionel bothered to correct the spelling of "Wellspring", they forget to update the SKU number on the label, and the #19673 was printed with #19667 on the label. Even though some parts are easily switched with other Lionel products, it is worth noting that the windows on the #19667 are slightly cloudy (very slightly) whereas on the #19673, the windows are absolutely crystal clear. Likewise, the uncoupling armature on the #19667 utilizes the (then new) all-metal armature, while the #19673 has the MPC era designed plastic armature with a metal thumbtack. This would seem appropriate as Lionel probably didn't have enough of the older plastic armature trucks for a standard production run, but did have enough for the small #19673 run.
Of special interest is the Wellspring logo in the upper left hand corner of the car. While the same decorating plates were used for both production runs, apparently they were damaged between the two runs. The logo on the #19667 is crisp and exhibits clear sharp edges. On the #19673, the upper right corner of the logo is rounded off. The placement of the lettering is slightly different, but that can happen within any given production run, so it is not necessarily an identifying feature.
For a Lionel Mint Car Collection to be complete, both Wellspring variations need to be included.
I'd like to give credit to Joe Endicott for assisting me with the research for these comparisons.
#19667 vs. #19673 Comparison Table
TCA MINT CAR COINS: By Newt Derby
There are only two TCA coins that went with mint cars. The first was a footed aluminum coin from the twenty-fifth convention in 1979 that was given to each attendee at the convention to place in their Convention mint car #9319.
With respect to the 25th Anniversary footed coin, there were a bunch left over and some were melted into a blob with one sticking out of the blob. I believe that is now at the National Toy Train Museum.
The second was a gold colored coin that went with the Banquet Table New Orleans Mint car #7522 which was specially heat stamped on the windows of the regular issue mint car for the 1986 Convention banquet. There were only 115 of these made by some guy named Newt Derby. There were also three pure silver coins, several hundred bronze colored coins, and thousands of aluminum coins that were part of the Mardi Gras that was a part of the convention banquet.
All the coins for the #9319 were made from the same dies. Of the three silver coins, one was presented to Bill Tunstall, former TCA National President; one was presented to Dom Schwab, the then TCA National President; and one was auctioned at the convention banquet by auctioneer "Mr. TCA", Lou Redman. And the buyer was that same guy, Newt Derby.
There were two new coins issued at the TCA 50th Convention in 2004:
TCA National Convention/Ft. Pitt Division coin, 2004
TCA 50 th Anniversary Golden Express Celebration 24-karat goldplated coin, 2004
THE "FREE" MINT CAR: By Bob Mintz
In our Post 9-11 world, Lionel developed the "Spirit of America Super Value Program." Current members of either, or both, the Lionel RailRoader Club and Century Club II were eligible to receive a free U.S. Savings Bond Car. The stipulation was that one must purchase from a list of qualifying items from a Lionel Authorized Value Added Dealer between October 1-December 31, 2002.
If you were a member of both clubs and made two purchases from the list, you were approved to get two free cars. One of the only other times that I can recall the consumer getting anything free from Lionel, was the #19559 MKT STOCK CAR, the so-called make up add-on car for the #31700 GIRL'S SET.
The scheduled shipping date for the Savings Bond car was estimated to be June 2003, but in yet another surprise, #19696 arrived in mid May 2003.
THE INLAND EMPIRE TRAIN COLLECTORS ASSOCIATION: By Mike Stella
The IETCA was a small group of Lionel collectors and operators based in Southern California, just east of Los Angeles. This organization is not in any way connected, despite its name, to the TCA. Between 1979 and 1986, the Club offered anniversary cars to its members, usually redecorated by professional repainters Pleasant Valley Process Co. (PVP).
In 1984, the Club issued its 6th annual anniversary car, a standard issue #7518 mint car with four decals applied to the clear windows stating "6th Anniversary IETCA 1984".
This is the only IETCA car in which the original production model was still visible, and about 50 were made.
SELECTED FACTORY ERRORS: By Bob Mintz, Shannon Sikora and Charles Janiga
A factory error usually occurs sometime during the painting, decorating or assembling process. It is more often than not the result of an inadvertent oversight. Some mistakes are more obvious than others, such as the graphics boo-boo shown here.
Considering the shear number of items produced, stamping errors are bound to exist, such as shown here for the very same item from above.
I have provided the regular issue item as a reference. Like we used to do for Highlights for Children ("What's wrong with this picture?"), see if you can find the two graphics errors in the second image shown of the Monopoly mint car.
The Lionel and Richard Kughn auctions have produced even more variations. Some shells that were produced for what was thought to be only special production runs such as the QVC sets, or factory overruns that were sold to Lionel Top 10 dealers, have turned up in the hands of private collectors.
One such item was reported by Charles Janiga who told me that the regular version of the Lionel Mines mint car #19672 looks pure red. He has yet another deviation that has light gold lettering over-spray on a less red color, as well as the "built date" having thinner lettering. Also the metallic finish car does not have sprung metal trucks.
We present here the regular version as well as the so-called "gold dust" variation.
THE MINT CAR TRAIN: By Bob Mintz
"All New Limited Edition Series 6-18300 Pennsylvania GG-1 Electric. What locomotive is stately enough, powerful enough, and exciting enough to pull the most expensive train set of all time?
The Pennsey GG-1 returns, coated in rich bronze markings to pull the most precious cargo in history, thousands of bars of gold and silver aboard Lionel's spectacular, continuing Mint Car series."
The year 1987 would bring an interesting self-congratulatory homage to this continuing mint car series. Little did Lionel ever realize that even "two of the mightiest Pullmor motors ever developed, plus Magne-traction" would probably never be able to keep up with the sheer size of this ultimate freight train.
Why make a bronze colored engine and caboose when the mint car was guarding bars of gold?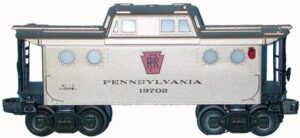 Not really sure of the answer, I would have had a gold-plated engine, and "whassup" with that caboose?
Wouldn't a matching security car have worked and been more appropriate considering the cargo?
TO ALL MINT CAR COLLECTORS OUT THERE…
The TCA 50th Anniversary Gold mint car is meant to be a companion piece to the TCA 25th Anniversary Silver mint car. The fact that the 25th anniversary mint car was in Lionel blue and the 50th anniversary mint car is in Lionel orange, is intentional.
According to Matt Irvin, 2004 Convention Car Chairman: "A PERSONAL hint to you is to make sure you attend the 50th Anniversary convention banquet next year because you never know what might be the very, very, limited banquet car!"
The 2007 53rd. National TCA Convention
"Gold" Denver Mint Banquet Car
By Ron Stowell-#97-45593
The Rocky Mountain Division of TCA was very proud and honored to host the 2007 53rd Annual TCA National Convention in Denver, Colorado. The RMD is particularly proud of the Convention Car suite created by our Convention Car Committee. The sales of all of these cars far exceeded all our best estimates.
However, the car that is of special significant importance from our convention was and continues to be the Saturday Night Banquet Car created specifically as a table prize for the banquet. There were only 100 of these cars ever produced by Lionel LLC for our convention. As a result, these unique cars continue to be of a considerable value to operators and collectors yet today.
This car began life as a normal mint car as manufactured and sold by the Lionel Corp. for many years. The first thing we did was request that Lionel manufacture their FIRST centrally lighted mint car for our "future" RMD Banquet Car. As TCA has found with Lionel through the years, they were open to this and also expressed a very strong interest in assisting with the creation of this unique and one of a kind unit.
The next evolution of this car was to install a full set of "Denver Mint marked" uncirculated coins, from the penny, to the nickel, dime, quarter, half dollar and dollar.
As we wanted to "stand" the coins up for best viewing, a special coin holder would be needed to make this happen. Fortunately, with input from both our Convention Car Committee and the Lionel Corp., we were able to design a coin holder that would do the job. Then Lionel offered to have these unique coin holders manufactured and installed in the car at their factory.
The RMD Convention Car Committee was faced with the responsibility of locating 100 sets of 2007 Mint Coin Sets all with the Denver Mint mark on them. The coins had an interesting story all in themselves.
We were informed by the Denver Mint that we could no longer purchase rolls of each coin and could not specify a specific mint mark or year. As it turned out, although "some" coins were still available in rolls, our Convention Car Committee had to purchase bags of "uncirculated Mint coins" and search through them for the correct "year" and "Denver" mint mark.
It quickly became clear to us that this process could take forever. That's when we began contacting dealers in California, Oklahoma and Colorado in order purchase the coins needed to complete this part of the car.
Once the Rocky Mountain Division had acquired the necessary number of coins needed to complete Denver Banquet car, the next step was to install them into the "mint" car. This turned out to be quite an exercise in itself.
To begin with, the Convention Car Committee set up an "assembly line" structure and had one person open the master shipping cartons, two people opened the shipping boxes, removed and opened the actual car box and put the car into a cradle. The next step was to have two people with screwdrivers remove the bodies.
This final assembly step became a bit complicated as when the people responsible for installing the coins in the coin holder, discovered that some of the coin holder slots were too tight. This meant it became necessary to file some of these slots in order to fit the coins tightly into their locations.
We then reversed the process and had an individual reinstall the mint car bodies and put them back into their boxes. This completed the process except for a piece of information of note…all of this was done while wearing white gloves to prevent anyone from actually handling either the cars or the coins with their bare hands.
Although we set some very high standards for this particular project, as we did with all we tried to present to our fellow members of TCA during the convention, we all felt that it was well worth all the time, effort and energy needed to bring this project to a successful conclusion.
The final piece of our plan was to keep the "Special Denver Mint Banquet Car, TCA 2007-Denver, Co. #6-52417," a secret until the night of the banquet. Thanks to all the member volunteers of the Rocky Mountain Division, we succeeded in maintaining the secret.
---
# 52574 METCA 50th Anniversary Fort Knox Mint car
---
#52574 METCA 50th Anniversary Fort Knox Mint Car-Overstamp w/ black printing – 1 of 25. See: 50th Anniversary Banquet Flyer
#52488 METCA NYC LIghtning Mint Car-Overstamp w/ white printing – 1 of 15.
#52583 METCA 2011 Division Car Baltimore & Ohio Mint Car – Overstamp w/ gold printing – 1 of 10
#58512 TCA-LONE STAR DIVISION Southern Pacific Daylight Mint Car#
#58552 TCA-Lone Star Division Texas Special Mint Car w/Silver Load and Trucks
This Lionel Texas Special mint car w/SILVER LOAD & TRUCKS will go well with past Texas Special freight and passenger cars, regardless of manufacturer. This car is manufactured and painted for us by Lionel. Features include metal brake wheel, die-cast sprung trucks/couplers and metal frame. Our other Texas Special GOLD BULLION Mint car sold out in two months. Order by November 30, 2012 for guaranteed purchase. Est. delivery June/July 2013. Limited Edition of 500. Order now to avoid disappointment! This car is sold exclusively through the TCA Lone Star Division.
http://www.tca-lonestardivision.org/index.html
---
# 58566 LOTS Virginia & Truckee Railroad "Carson City" Mint Car
The Lionel Operating Society is proud to announce the newest addition to the LOTS line-up of cars—-a VIRGINIA & TRUCKEE Railroad "Carson City" MINT CAR!
The V&T was built to serve the Comstock Lode mining communities of northwestern Nevada. During its height of service, the railroad's route ran from Reno south to Carson City, Nevada. In Carson City the mainline split into two branches. One branch continued south to Minden, while the other branch traveled east to Virginia City. The first section from Virginia City to Carson City was constructed commencing in 1869 to haul ore, lumber and supplies for the Comstock Lode. The Carson City Mint was a branch of the United States Mint in Carson City, Nevada. The mint was established in Carson City to facilitate minting of silver coins from silver in the Comstock Lode. 50 issues of silver coins and 57 issues of gold coins minted here between 1870 and 1893 bore the "CC" mint mark.
LOTS is excited to commemorate this time in Nevada's history by offering a traditional Lionel Mint car featuring striking graphics, die-cast metal trucks, operating couplers. The V & T Carson City" Mint Car operates on 0-27 and wider curves and is 10 1/4 " in length. This V & T "Carson City" mint car is sure to be a cherished addition to your collection and operating railroads.
LOTS has a "no limit" on orders. The Car costs $70.00 plus shipping($10.00 for 1 car, plus $5.00 for each of the next three cars, plus $2.00 for each car over four cars.
SHIPPING DATE IS ANTICIPATED IN DECEMBER 2013. LOTS always sends a shipping notice to you before the cars ship from the LOTS business office.
Orders are accepted online at www.lots-trains.org; by FAX at 866-286-6416 or mail at:
LOTS–V & T Mint Car Order
6376 West Fork Road
Cincinnati, Ohio 45247-5704
---
# 58572 2014 TCA Convention Car Lionel Traditional Reading/Philadelphia Mint Car
The Reading Company usually called the Reading Railroad, officially the Philadelphia and Reading Railroad and then the Philadelphia and Reading Railway operated in southeast Pennsylvania and neighboring states. It was one of the most prosperous corporations in the United States.
The United States Mint at Philadelphia is the largest coin factory in the world! Many of the coins you use every day are made right there. The United States Mint was established in Philadelphia in 1792, and coins have been continuously struck here for over 200 years. The United States Mint is the nation's sole manufacturer of legal tender coinage.
The TCA is proud to offer the Lionel Traditional O Reading/Philadelphia Mint Car to help celebrate the 60th Anniversary of the TCA with the annual convention to be held in the Philadelphia area in June 2014.
For Convention information:
http://www.adtca.com/2014-convention
For additional information on this and other convention cars and ordering (while available), see tcamembers.org/offers/conventioncars/index.shtml.
# 58572 Prototype as seen at the St. Louis Convention
---
# 58569 METCA-Erie Lackawannna Mint Car-2014
PHOEBE SNOW was a runaway successful marketing campaign promoted by the Lackawanna Railroad. Phoebe, a woman dressed in white, was symbolic of how clean their locomotives ran because they used hard anthracite coal. After the merger with the Erie Railroad, the widely popular Erie Lackawanna continued to use this reference for their top-of-the-line named trains. METCA has incorporated this theme into our 2014 Division Car. This new Limited Production 6-58569 Erie Lackawanna Mint Car is 100% Lionel made and decorated, features die-cast sprung trucks/couplers, a metal brake wheel, a metal frame, and includes a gold bullion bar load. This car is already in production and is scheduled for delivery in early 2014. This car is the perfect companion to METCA's railroad themed Heritage Mint Car Series©. Order now because production quantities are set. Previous cars in the Series have all Sold Out, so don't wait until the last minute to order! Available exclusively from METCA.
METCA2014MintCarOrderFormErieLackawanna_CNJ.pdf
# 58246 METCA 2015 Banquet Car Blue Comet Mint Car w/ Gold printing
# 58247 METCA 2015 Banquet Car Jersey Central Mint Car w/ white printing
# 58248 METCA 2015 Banquet Car Erie Lackawanna Mint Car-Overstamp w/ maroon printing
# 58248 METCA 2015 Banquet Car Erie Lackawanna Mint Car-Overstamp w/ yellow printing
---
Complete collection of mint cars displayed by number on Showcase Express shelving.
See: http://www.tcaetrain.org/articles/layouts/productreview/index.html
The Desert Division is offering the following car:
# 58222 TCA Desert Division AEC Mint Car w/illuminated translucent load
Bottom View
The Los Alamos Mint Car
The first ever Lionel Mint Car with a glowing, pulsing secret shipment. This is a limited offering.
This is the second Fund Raising Car for the 2019 TCA Convention in New Mexico.
Additional Views: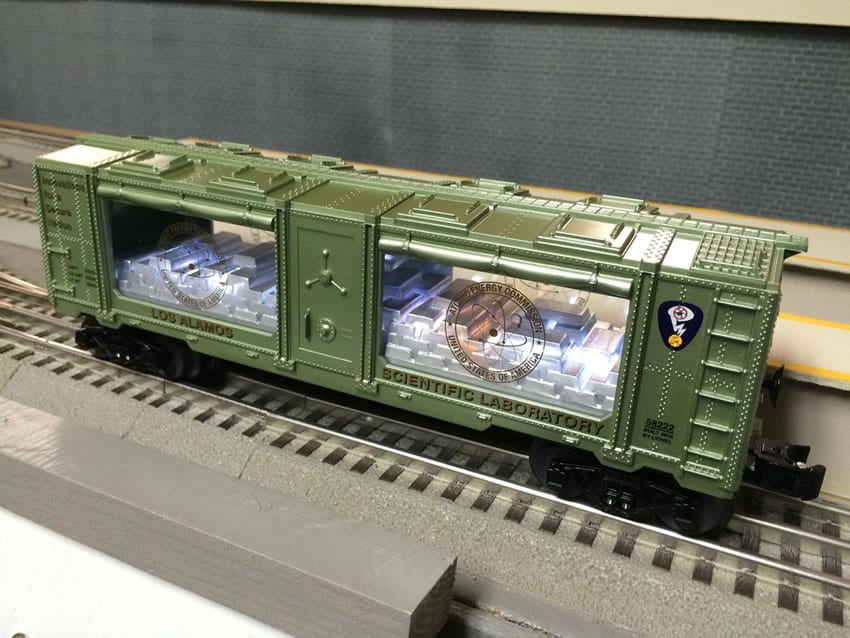 ---
Manhattan Project Trinity site Mint Car-Glowing Load
#58067 Manhattan Project Trinity Site Mint Car-Glowing Load
#58067 Bottom View
The Manhattan Project was an R&D project headquartered in Los Alamos, New Mexico, that produced the first nuclear weapons. The first nuclear device ever detonated was at the Trinity Site, and this research resulted in the Little Boy and Fat Man bombs. These historic events are captured on this Mint Car, which features a glowing load, die-cast sprung trucks and AEC and A-Bomb graphics.
Available as a limited quantity 2019 TCA Convention Car.
---
#58068 Manhattan Project Mint Car 2019 TCA Banquet Car – 150 produced
#58068 Bottom View
---
#1901430 2019 LCCA Convention Car Mint Car
---
#1923100 Top View
#1923103 Fort Knox Bullion Mint car from # 1923100 U.S. Fort Knox Bullion Depository set
---
#2001100 2020 LCCA Registration Mint Car
The registration gift was offered to be purchased by any member who had registered prior to the cancellation of the Convention.
LCCA Introduces The 2020 Union Pacific Mint Car Celebrating Our 50th Anniversary
The 2020 Convention Registration Gift is a gorgeous mint car in Union Pacific livery. It is 8.5 inches long and takes 027 curves. Features include inside lighting in the windows, a load of gold ore, 50th Anniversary graphics, operating couplers, and silver metal sprung trucks. Won't this colorful mint car look spectacular traveling behind the Union Pacific ET44AC locomotive? You can order your 2020 Convention Registration Mint Car using the LCCA website store, by order form in the June edition of The Lion Roars or by calling the LCCA business office at 1-815-223-0115 during regular business hours. The cost of the car is $179. Shipping and handling are FREE! Shipping is anticipated in late August 2020. First come first served! Very limited quantities.
Link to purchase this car
Click here to order this car.
LCCA Announces the 2022 Annual Convention Car!
# 2201210 LCCA Tennessee Central Railroad 2022 Convention Mint Car
The LCCA is proud to offer a new Mint Car for the upcoming 2022 Annual Convention in Nashville, TN. It is finished in Tennessee Central Livery with a gold load and gold records on the windows in a musical theme. This car features interior LED lighting and is a wonderful commemorative of the Nashville Convention, capturing the music, the train ride on the Tennessee Central, and the golden opportunity we have in being able to meet again in person after 3 long years.
This is a limited-edition car, produced for the LCCA by Lionel in limited quantities; so order quickly! The Lionel part number is 2201210 with the last 5 digits (01210) appearing on the side of the car. The "Return to when empty" location is Peru, IL, the location of our business office. The end of the car proudly, but eloquently, announces this as the LCCA 2022 Convention Car and our 50+2 convention.
Cost of the car is $99.00 plus $14.00 freight. Once sold out, they will not be reproduced.
Features:
Die-Cast Trucks Operating Couplers
Silver Painted Trucks
Metal Frame
Interior LED Lighting
Nashville Musical Theme
Tennessee Central Hearld – Honoring the Nashville Convention Train Ride
Identified as LCCA and with 50+2 Convention Notation
Simulated Gold Bars show through Gold Records
Unique LCCA Box
Specifications:
Minimum Curve: 027
Length: 10.5 inches
LED internal lighting
Don't miss out – with our Nashville Convention right around the corner this car is sure to sell out. Order yours today – Must be an LCCA member to purchase. Click here to order this car.
Expected Delivery Fall 2022
The below ONLY available from American Precious Metals Exchange (APMEX)
Product Details
Exclusively from APMEX, you can get one of only 500 Lionel APMEX Mint Cars as a Premium Collector's Set with 2 or 8 custom-made 1 oz Silver Mini Bricks. Combine the nostalgia of model train sets with the excitement of collecting unique Silver.
Metal Highlights
Includes 2 or 8 APMEX Mini Bricks of 1 oz Silver each.
APMEXclusive® bars designed specifically for the APMEX Mint Car to carry
APMEX Mint Car Highlights
Electric
Model # 2128380
Die-cast sprung trucks and operating couplers
500 of these unique model railroad cars available only at APMEX
Metal frame, wheels, axles and brake wheel
Detailed molded body custom built to carry APMEX 1 oz Silver Miniature Mint Bricks
Length: 12 inches
Width: 2.5 inches
Height: 3.25 inches
O Gauge
Min Curve: 0-27
**Typefont on APMEX Mint Car May Vary**
Protect your newest investment by storing in one of our security safes.

Lionel Trains and the APMEX Mint Car Starter Set
Founded in 1900 in New York City, Joshua Lionel Cowen produced Lionel's first train model named the Electric Express. It was Cowen himself who suggested department stores to integrate their model trains into Christmas displays, which spurred the well-known correlation between model trains and the popular winter holiday. From the mid-1940s through the 1950s, Lionel became the most successful manufacturer of classic toy trains. Today, Lionel continues to create classic train sets to bring joy to both children and collectors alike. APMEX and Lionel partnered to create 500 unique mint cars, configured to carry 2 or 8 real 1 oz Silver mini bricks available only from APMEX. Imagine having actual Silver holdings on the move in your model town – with the APMEXclusive® Lionel Mint Car Collector's Set you can make that a reality for your collection today.
https://www.apmex.com/product/242634/lionel-apmex-mint-car-starter-set-1-oz-ag-mini-bricks-x-2
2128280 Lionel APMEX Mint Car Collector's Set (1 oz Ag Mini Bricks x 8)
https://www.apmex.com/product/242635/lionel-apmex-mint-car-collectors-set-1-oz-ag-mini-bricks-x-8
Would any of my articles not be complete without the obligatory third party inclusions? Of course not!
RGS Limited Editions 184 North Main Street Old Forge, PA 18518 Voice: 570-457-6805 Fax: 570-457-6814 Cell: 570-575-0460 Email: [email protected]
#6438BRIX Brinks, Gray, 2003, uncataloged
The Sam Houston Mint Car is a Lionel mint car (6445 postwar style) and features a metal frame, couplers, die-cast sprung trucks, and No. 8900 reporting mark. The "1838" number at the center of the car commemorates the year that Houston was the Capitol of the Republic of Texas. The car is decorated in their red, white and blue "Lone Star"© paint scheme. The letters "HTOS" are displayed on one end of the car, while the words "Houston Tinplate Operators Society" appear on the opposite end. A small image of Texas is painted on the side of the car with a star marking the location of Houston.
---
Trotta's Trains & Things. John Trotta, 60 Perkins Street, Stoneham, MA 02180. (cell) 609-618-8111. Email: [email protected].
BOSTON & MAINE MINTCAR BLUE/BLACK "17839", 2005, uncataloged
---
Dr. Joseph Lechner Computer Generated Car, uncataloged
#6559 Union National Community Bank (unknown manufacturer) Union National Financial Corporation , headquartered in Mount Joy , Pennsylvania , is the holding company of Union National Community Bank. The bank provides a full range of financial services for both retail and business customers in Lancaster County , Pennsylvania .
Fort Knox, courtesy Gordon Wilson