Lionel's Textbook of Model Railroading Part 4: Building the Dream Layout
e*Train Issue: Dec 2003 |
Posted in: 1945-1969 PostWar Era, Collecting
By Joseph H. Lechner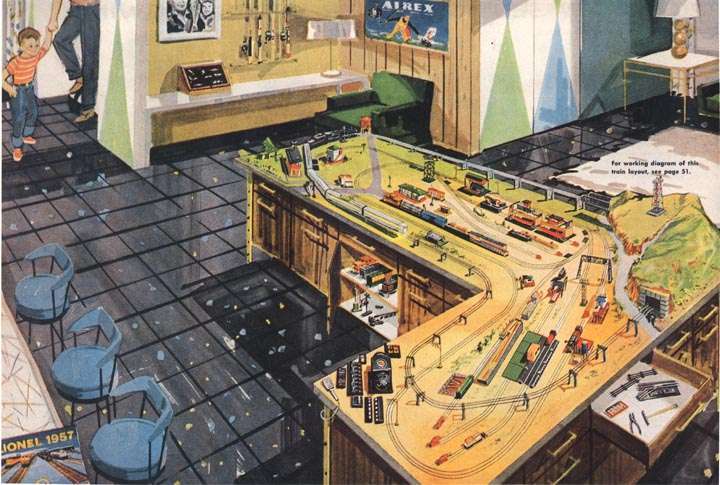 This illustration on the back cover of Lionel's 1957 consumer catalog fired the imaginations of hundreds of thousands of baby boomers. It featured a two-train layout with realistic new Super "O" track. The pike was loaded with dozens of Lionel's best accessories. It was beautifully landscaped. It was supported by fine cabinetry. Toy trains were the centerpiece of a tastefully-finished family room that also included a lunch counter, a reading area, and a display of Dad's fishing tackle and trophies.

Did this dream layout ever actually exist? I believe that it did, for several reasons.

First, the track plan is highly plausible. In Part 2 of this series, I mentioned that trains could depart from the passenger station and have a surprisingly long run before returning to the depot. There were plenty of opportunities for industrial switching while a through train is running on the main line. The layout made effective use of operating cars and accessories. It was truly a showcase for Lionel's best pieces. The quality of its overall design leads me to believe that this layout was actually built and operated.
Second, the artwork portrayed many technical details accurately. In Part 3 of this series, I stated that the control panel included an appropriate controller for every car or accessory that was supposed to come with one. The controls were arranged logically and conveniently to enable one person to operate the entire layout while standing at the panel on the front left corner of the table.

Third, in 1960 Lionel published a booklet entitled "How to Operate Lionel Trains and Accessories". Included in that booklet was an accurate track plan for this layout. It included a list of Super "O" track components required, wiring instructions, and the exact placement of accessories. This booklet proved that it was really possible to build the layout, essentially as the artist drew it, on two 5' x 9' panels as the catalog had claimed. The detailed information suggests that at least one copy of this layout had actually been built at the Lionel factory. Possibly, multiple copies were built and sold to dealers as display layouts. Can anyone recall seeing this layout in a store?
Artist's conception vs. reality

Careful comparison of the 1957 drawing with the 1960 track plan reveals some minor discrepancies. Where the catalog artist's sketches were sometimes too spacious, the draftsman's plan brings us back to reality. These occasional differences suggest to us that someone actually laid the track, installed the accessories, and discovered that adjustments were necessary. What's different about the 1960 track plan?
1. The 145 gateman, which is shown close to the road in this 1957 vignette, was moved approximately 15" to the left. There simply was not enough room to place him at the grade crossing, because the tracks were too close together at that point.

2. The 3662 milk car platform, which is shown between tracks 2 and 3 in the 1957 cover illustration, was moved inside the third track. This was necessary because there was not sufficient clearance for it between the tracks. The move made prototypical sense anyway, because milk was usually handled by passenger trains and thus the facility should have been located near the depot.


3. The 397 coal loader, which was shown in this scene from the 1957 catalog, was omitted entirely from the 1960 track plan. There wasn't enough room for the #397 as well as the culvert loader/unloader between the two yard tracks. #397 was redundant anyway, because there was also a #497 coaling station in this yard. These two accessories looked quite different, but they performed essentially the same function, receiving coal from a dump car and reloading the coal back into the car.

4. The #253 block signal shown in this sketch was omitted entirely from the track plan. These two tracks were so close together that there was no room for an accessory between them.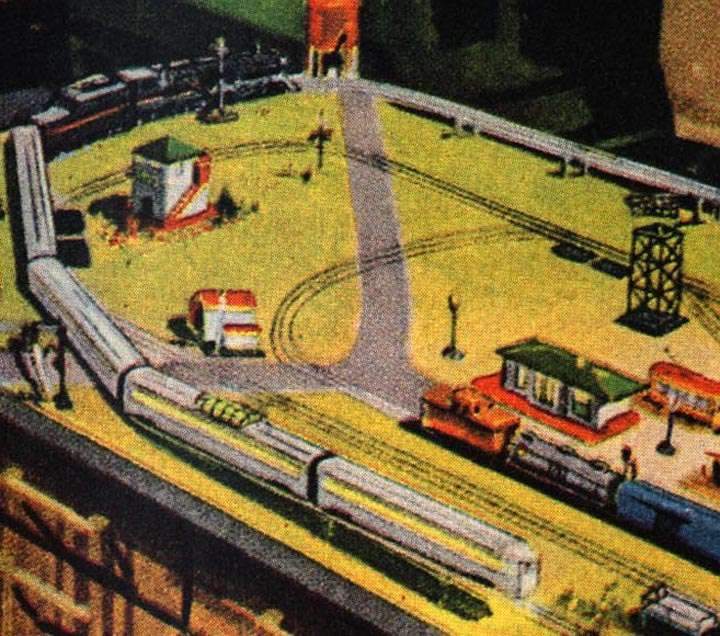 5. The direction of operation was changed. In this catalog illustration, the passenger train is running clockwise on the main line. However, the 1960 track plan was clearly labeled for counterclockwise operation. The train was supposed to climb the grade at the front of the layout and then descend the grade at the rear. Wiring instructions specified that the rear track, from the interlocking up to the tunnel, was insulated from the rest of the loop. The front half of the loop was wired to post A of the ZW transformer (a large outer handle), while the back half of the loop was wired to post C (a small inner lever with no reverse or whistle control). This was a common technique used on display layouts so that trains could safely operate unattended. A train needed higher voltage to prevent stalling while it was climbing upgrade; it needed lower voltage when going downgrade so that it would not built up excessive speed and fly off the rails. This was accomplished by using two separate transformer circuits, with the downhill track given lower voltage.
The diesel freight train on the catalog cover was shown traveling counterclockwise, and this was appropriate because it was easier to switch the five yard tracks with the train facing that direction.
6. The locations of the #352 ice station and #415 diesel fueling station were switched. The 1957 catalog showed #352 on the left; the 1960 track plan showed it on the right. These accessories were much closer to the elevated track than it seemed in the artist's sketches. #415 was roughly twice as deep as #352; these two items would fit into the available space only if #415 was on the left.
7. The 1960 track plan called for an extra transformer that wasn't shown in this 1957 catalog sketch. According to wiring instructions in the 1960 booklet, the ZW transformer was to be connected as follows:
Post A – upgrade portion of outer main line loop
Post B – fixed voltage plugs on remote control switches
Post C – downgrade portion of outer main line loop
Post D – inner mainline and yard tracks

Remember the TW that our anonymous five-year-old friend used when he was operating his #602 Seaboard switcher set on a floor layout?
It's still here after all. According to the 1960 booklet, a TW transformer was to be used as an auxiliary power supply. Its variable-voltage circuit was used to operate the trolley, while its fixed-voltage posts were used for accessories. The booklet included instructions for phasing the two transformers and connecting their ground posts.

Building the dream layout

In summary, Lionel's 1960 operating booklet showed this track plan to be well-designed and eminently workable. What Lionel equipment would you need to duplicate it? The 1960 booklet provided a complete list of track components; the 1957 catalog gave a list of accessories; and I have attempted to identify the rolling stock from the artist's sketches. Most are easily recognizable, but a few required some interpretation.
For example, this illustration from the catalog cover shows what appears to be a 30 ton industrial diesel, similar in size to a #41 U. S. Army loco, but red. As of 1957, Lionel had never offered an engine matching that description. But in 1958, a red-and-white diesel lettered for M&StL was manufactured. Was Lionel's artist looking at a prototype of the #56 switcher when he drew this? Perhaps; but in the close-up vignette of this scene, the engine on the transfer table is clearly a #625 Lehigh Valley GE 44-tonner (shown in item #6 above).
None of the catalog illustrations showed a #3424 operating brakeman car, but its existence was implied because telltales appeared in both the industrial park scene and the mountain scene. Lionel's 1960 track diagram specified where four telltales were to be installed on the layout; but in my opinion they missed some. A telltale was necessary on either side of every overhead obstruction. Accordingly, this layout needed one set of telltales around the #497 coal loader, two pairs at the #450 signal bridge (one set per track); and one pair where the inner mainline passes under the outer mainline.
Time for shopping

Here, then, is a complete bill of materials for the 1957 dream layout. Only toy train items are listed. I have omitted a #253 block signal and a #397 coal loader, because Lionel's published track plan indicated that there was no room for them. You are on your own for 5' x 9' plywood panels and cabinetry to support them.

What did it cost to buy it all in 1957? Unfortunately, Lionel consumer catalogs of the mid-1950s were sketchy about financial information. They listed separate-sale prices for locomotives, but not much else. Possibly this was related to the etiquette of removing price tags from gifts. Lionel published a price list separately. This was not unlike the practice of certain restaurants that printed two editions of their menus; one with prices for the man and the other without prices for the woman. I am indebted to Dale Catey for sharing information from his 1957 Lionel price list. I still do not know the official list price for a #415 diesel fueling station or a #920 scenery set, so I have estimated them at $10 each. Altogether, the 1957 retail prices for track, transformers, rolling stock and accessories totaled just over $900. To put things into perspective, a new car cost roughly $2,000 in 1957, so this set of electric trains was about half the price of a car.
What would the same layout cost today, assuming you built it entirely with vintage postwar equipment in excellent or better condition? I "shopped" in recent issues of TCA Headquarters News, which carries advertisements of train items offered for sale from one member to another. I looked for "like new" grade when it was available, or "excellent" when LN was not available; but did not select "mint" items because, after all, the intent is to assemble a working layout and to actually operate everything. My quoted prices are representative asking prices, with no effort to ascertain whether any transaction actually took place at that selling price. Mike Spanier, a restorer of Super O track, estimated a total price of $1358 for all reconditioned track items needed for this layout.

Item#
Track
Quantity
1957 price
(each)
2003 price
(each)

31
32
33
34
36
37
38
48
49
61
62
112


Super O curve
Super O straight
Super O half straight
Super O half curve
Super O operating car set
Super O uncoupling track
Super O adapter track (pair)
Super O insulated straight
Super O insulated curve
Super O power lockon
Super O ground lockon
Super O remote switches (pair)

47
75
11
2
3
4
5
1
1
7
7
4
$0.50
$0.50
$0.50
$0.50
$1.75
$2.95
$2.50
$0.75
$0.75
$0.30
$0.10
$22.50
$1358.00
(total for all
Super "O" items)
Item#
POWER SUPPLIES
Quantity
1957 price
(each)
2003 price
(each)
91
TW
ZW
circuit breaker
175 watt transformer
275 watt transformer
3
1
1
$3.95
$26.50
$39.95
$40.00
$120.00
$250.00
Item#
ROLLING STOCK
Quantity
1957 price
(each)
2003 price
(each)

602
625
746
2341
60
3927
2531
2532
2533
2534
3356
3359
3424
3444
3562
3662
6425
6427
6456
6462
6464-475
Seaboard NW-2 switcher
Lehigh Valley GE switcher
Norfolk and Western J 4-8-4
Jersey Central FM Trainmaster
trolley
track cleaning car
observation car
vista-dome car
coach
coach
operating horse car
operating dump car
animated brakeman car
animated gondola
operating barrel car
automatic milk car
Gulf 3-dome tank car
N5c caboose
hopper
gondola
Boston and Maine box car
1
1
1
1
1
1
1
1
1
1
1
1
1
1
1
1
1
1
1
1
1
$25.00
$18.95
$49.95
$39.95
$8.95
$11.95
$12.95
$12.95
$12.95
$12.95
$17.95
$8.95
$9.95
$9.95
$9.95
$12.95
$5.95
$5.95
$4.95
$4.95
$5.95
$200.00
$150.00
$1,500.00
$3,500.00
$225.00
$100.00
$315.00
$315.00
$315.00
$315.00
$145.00
$80.00
$89.00
$100.00
$150.00
$80.00
$75.00
$50.00
$28.00
$17.00
$120.00
Item#
ACCESSORIES
Quantity
1957 price
(each)
2003 price
(each)
71
110
111
118
128
133
138
140
145
151
155
195
197
214
252
253
260
282
342
345
350
352
362
364
397
410
415
445
450
464
465
494
497
920
3424-100
lamp post
graduated trestle set
elevated trestle set
newsstand with horn
animated newsstand
illuminated station
automatic water tank
banjo signal
automatic gateman
automatic semaphore
ringing highway signal
floodlight tower
rotating radar antenna
girder bridge
crossing gate
automatic block signal
illuminated bumper
gantry crane
culvert loader
culvert unloader
operating transfer table
ice station
operating barrel loader
operating log loader
coal loader
blinking billboard
diesel fueling station
switch tower
signal bridge
operating sawmill
dispatching station
rotating beacon
coaling station
scenery set
extra telltales (pair)
2
1
1
1
1
1
1
1
1
1
1
1
1
1
1
1
8
1
1
1
1
1
1
1
1
1
1
1
1
1
1
1
1
1
3
$1.25
$5.95
$3.95
$9.95
$9.95
$6.95
$7.95
$5.95
$6.95
$5.50
$7.95
$5.95
$5.95
$2.95
$5.95
$5.95
$1.95
$19.95
$14.95
$18.95
$22.50
$12.95
$11.95
$17.95
$17.95
$2.75
$10.00
$8.95
$8.95
$12.95
$15.95
$5.95
$16.95
$8.00
$2.50
$15.00
$15.00
$20.00
$75.00
$265.00
$90.00
$60.00
$30.00
$50.00
$50.00
$25.00
$85.00
$75.00
$65.00
$25.00
$80.00
$10.00
$350.00
$250.00
$250.00
$300.00
$185.00
$150.00
$100.00
$100.00
$60.00
$150.00
$65.00
$50.00
$225.00
$80.00
$48.00
$200.00
$250.00
$20.00
GRAND TOTAL
$900.75
$13,530.00


Bottom line: you could have built Lionel's dream layout with all-new components for just over $900 in 1957, but it will cost you nearly $14,000 to build the same layout with used components in 2003. Interestingly, a typical new car costs over $28,000 today, so the dream layout is still about half the price of an automobile. For what it's worth, the Lionel equipment will probably outlast the automobile.


Reconditioned Super "O" track . . . $1,358.00

Reconditioned transformers . . . $410.00

Excellent or Like New Rolling stock . . . $7,869.00

Accessories in operating condition . . . $3,813.00

Finally having the toy train layout you've dreamed of all your life . . . priceless
ACKNOWLEDGMENTS
I would like to thank Bill Laughlin for a copy of the 1960 Lionel track planning booklet; Dale Catey for information from the 1957 Lionel price list; and Mike Spanier for information on the current value of Super "O" track.