Lionel®'s Monopoly®–Go Directly to York; Do Not Pass The Fairgrounds; Do Not Spend less than $200…
e*Train Issue: Jan 2016 |
Posted in: 1970-now Modern Era, Collecting
By Bob Mintz (updated Winter 2016)
According to the Lionel website:
http://www.lionel.com/CentralStation/LionelPastAndPresent/
"By the 1970s, what remained of the original Lionel Corporation was a holding company specializing in toy stores. It had leased the Lionel name to Minneapolis-based General Mills, which bought other toy companies like Parker Brothers, Kenner, and MPC. By 1973 Lionel was folded into General Mills subsidiary Fundimensions, which carried on the Lionel tradition with many trains that equaled or bettered the originals."
According to Wikipedia:
http://en.wikipedia.org/wiki/Monopoly_%28game%29
"The history of Monopoly can be traced back to 1904, when an American woman named Elizabeth (Lizzie) J. Magie Phillips created a game through which she hoped to be able to explain the single tax theory of Henry George (it was intended to illustrate the negative aspects of concentrating land in private monopolies). Her game, The Landlord's Game, was commercially published in 1923. A series of variant board games based on her concept were developed from 1906 through the 1930s that involved the buying and selling of land and the development of that land. By 1934, a board game called Monopoly had been created which formed the basis of the game sold by Parker Brothers and its parent companies through the rest of the 20th century, and into the 21st. Several people, mostly in the Midwestern United States and near the East Coast, contributed to the game's design and evolution. By the 1970s, the idea that the game had been created solely by Charles Darrow had become popular folklore: it was printed in the game's instructions and even in the 1974 book The Monopoly Book: Strategy and Tactics of the World's Most Popular Game by Maxine Brady.
"In 1941, the British Secret Service had John Waddington Ltd., the licensed manufacturer of the game outside the U.S., create a special edition for World War II prisoners of war held by the Nazis. Hidden inside these games were maps, compasses, real money, and other objects useful for escaping. They were distributed to prisoners by secret service-created fake charity groups.
"Because of the lengthy court process and appeals, the legal status of Parker Brothers' trademarks on the game was not settled until the late 1970s. Ralph Anspach won a lawsuit over his game "Anti-Monopoly" on appeals in 1979, as the 9th District Court determined that the trademark Monopoly was generic, and therefore unenforceable."
And http://en.wikipedia.org/wiki/Kenner_Products:
"In 1985, General Mills merged Parker Brothers with their subsidiary Kenner. This new company, Kenner Parker Toys Inc., was acquired by Tonka in 1987. Tonka, including Parker Brothers, was bought by Hasbro in 1991."
The parallels between the two companies, Lionel Corp. and Monopoly seem fairly obvious. Both had roots in the early part of the 1900s and both were once owned by General Mills.
The Monopoly game board consists of forty spaces containing twenty-eight properties (twenty-two colored streets, four railroads and two utilities-electric and water), three Chance spaces, three Community Chest spaces, a Luxury Tax space, an Income Tax space, and the four corner squares: GO, (In) Jail/Just Visiting, Free Parking, and Go to Jail. Of the 22 colored streets, only Marvin Gardens; Park Place; Boardwalk; St. Charles Place; and St. James Place did not refer to an "Avenue" in their name.
It is believed that the character Rich Uncle Pennybags was also partially influenced by the stature and dress of financier and banker J. P. Morgan.
Wikipedia further recounts that in the U.S. versions, the properties are named after locations in (or near) Atlantic City, New Jersey. Atlantic City's Illinois Avenue was renamed Martin Luther King Jr. Blvd. in the 1980s. St. Charles Place no longer exists, as the Showboat Casino Hotel was developed where it once ran.
Marvin Gardens, the leading yellow property on the board shown, is actually a misspelling of the original location name, Marven Gardens.
Other interesting items which were substituted from the original Todd board (on display in the Strong Museum of Play in Rochester, N.Y.) were the use of North Carolina Avenue instead of South Carolina Avenue; and the use of Mediterranean Avenue instead of Arctic Avenue, on the board.
Short Line is believed to refer to the Shore Fast Line, a streetcar line that served Atlantic City. The B&O Railroad did not serve Atlantic City. A booklet included with the reprinted 1935 edition states that the four railroads that served Atlantic City in the mid-1930s were the Jersey Central, the Seashore Lines, the Reading Railroad, and the Pennsylvania Railroad.
The Baltimore & Ohio was the parent of the Reading. There is a tunnel in Philadelphia where track to the south was B. & O. and track to the north is Reading. Perhaps this is a reference to that. The Central of N.J. did not have track to Atlantic City but was the daughter of the Reading (and granddaughter of the B. & O.). Their track ran from the New York City area to Delaware Bay and some trains ran on the Reading-controlled track to Atlantic City.
[Note that while Wikipedia's grasp of trackage ownership, especially regarding the B&O and the CNJ, leaves something to be desired, the fact is that the relationship between Monopoly and railroads continues to be a subject of popular interest.]
The actual "Electric Company" and "Water Works" serving the city are respectively Atlantic City Electric Company (a subsidiary of Pepco Holdings) and the Atlantic City Municipal Utilities Authority.
There have been some changes to the board since the original: the colors of Mediterranean and Baltic Avenues were changed from purple to brown and the pink colored properties of Virginia Avenue; St. Charles Place and States Avenue to purple; the colors of the GO square changed from red to black; the adoption of a flat $200 Income Tax (formerly the player's choice of $200 or 10% of their total holdings, which they must calculate before making their decision); and increased $100 Luxury Tax amount (upped from $75).
Perhaps a futuristic version would include more modern utilities, oligopolies and other necessities such as internet service provider; operating system platform; cable company; petroleum gas company; telephone wireless service; music companies; book publishers; breakfast cereal manufacturers; beer; and healthcare provider insurance.
"Go to Jail" can also be replaced with alternative sentencing programs such as "House Arrest" with electronic monitoring via an ankle bracelet; furlough or community-based programs such as community service; work release programs; and graffiti clean-up; as well as drug and alcohol rehabilitation programs.
The Lionel Monopoly Board game shown in the header above and below was purchased in the summer of 2000 at the Lionel Visitor's Center Gift Shop during the LOTS/LCCA Convention held there.
During 1998, Eastwood Automobilia Limited offered what they called "The Ultimate Lionel® Collectable—The Lionel Monopoly® Collection" by teaming up with Lionel and Hasbro. Although the entire set was originally priced at $279.96, the mint car alone from this set still commands upwards of $250 or more.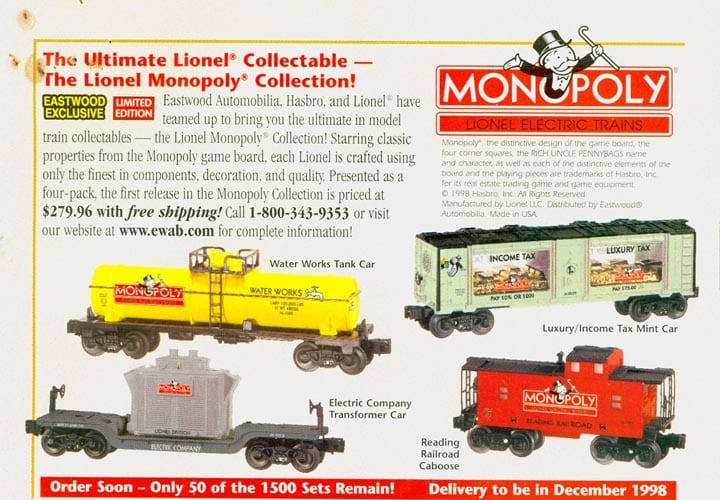 EASTWOOD AUTOMOBILIA LTD Monopoly Collection Set # 1 (limited to 1,500 pieces)
No known Eastwood number exists, invoice used the word "MONOPOLY" (set of four rail cars by Lionel)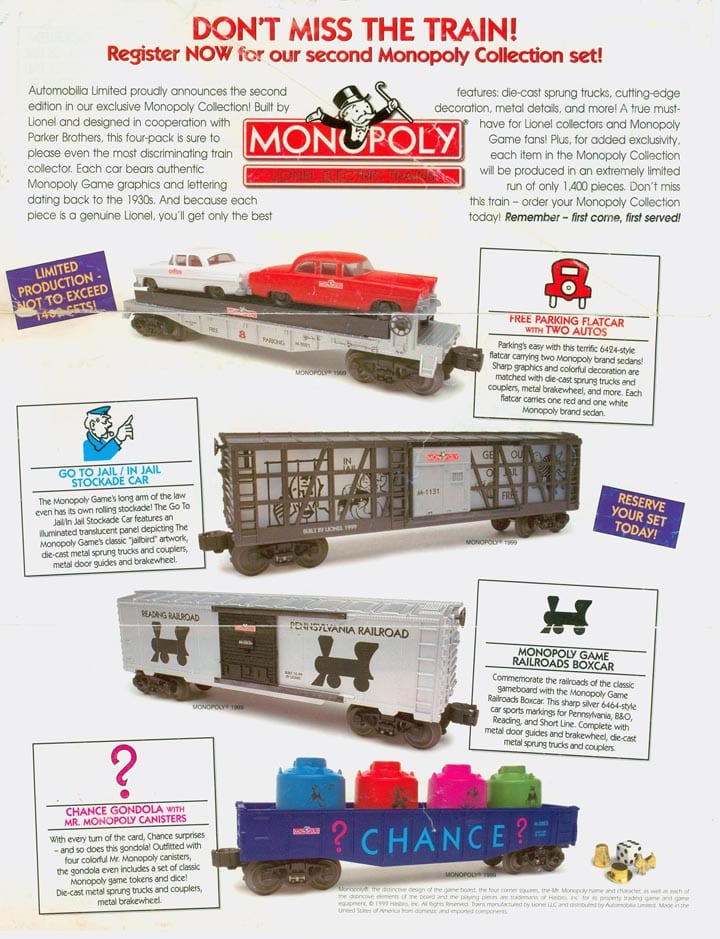 A second set in 1999 followed, but according to the copy, this time the "team" was with Parker Brothers and not Hasbro, even though Hasbro had purchased Tonka including Parker Brothers, in 1991.
#52182 aka Eastwood # 624037 B Monopoly Railroads Box Car (both sides)
FOLLOWING ENGINES LIMITED TO 500 EACH:
#52189 Aka Eastwood # 624042 Monopoly Locomotive and Tender Set (black) (image in Eastwood catalog shows 4-6-2 ENGINE)
(Photos courtesy of Edward Howanice)
#52219 Eastwood Monopoly Locomotive and Tender Set (bronze)
(Photos courtesy of Edward Howanice)
#52225 Eastwood Monopoly Locomotive and Tender Set (pewter)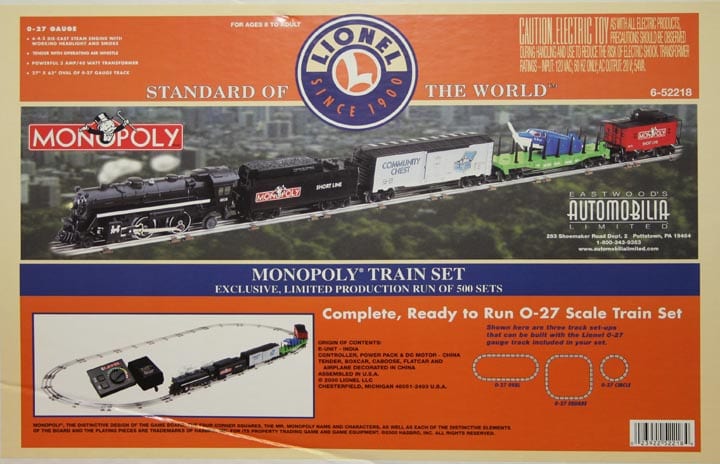 #28606 Monopoly Shortline 4-4-2 Steam #0035
#26002 PRR Flatcar w/BL/WH Airplane #0034 (Eastwood)
#38678 Monopoly Hudson
#39292 Monopoly Box Car 3-Pack #1:
#39298 Monopoly Box Car 3-Pack #2:
#39310 Monopoly Box Car 3-Pack #3:
#39328 Monopoly Box Car 3-Pack #4:
#39344 Monopoly Box Car 3-Pack #5:

Separate sale:
#39376 Monopoly Box Car 2-Pack:


#39379 Monopoly Box Car 2-Pack:

#81067 Monopoly Box Car 2-Pack: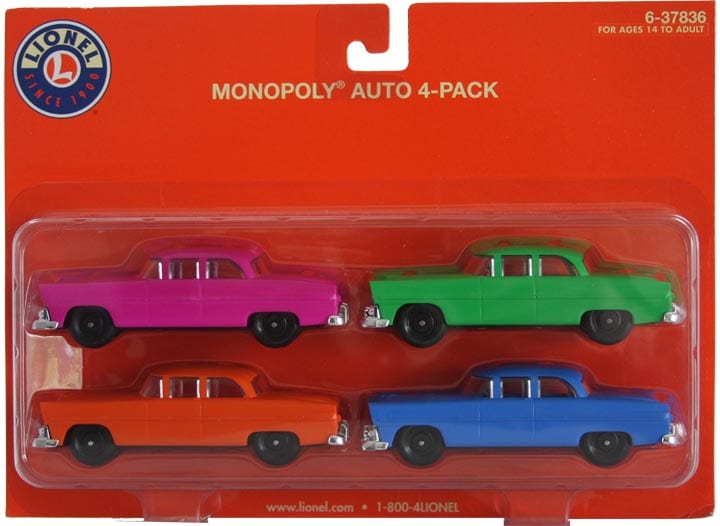 The Forbes Fictional 15:
http://www.forbes.com/2006/11/20/uncle-pennybags-money-tech-media_cx_de_06fict15_monopoly.html
http://www.forbes.com/special-report/2012/fictional-15-12/mr-monopoly.html
Net Worth: $7.1 billion
Source: Real Estate
Age: 71
Marital Status: Single
Hometown: Atlantic City, N.J.
Education: University of Pennsylvania, B.A.
Real-estate magnate also known as Rich Uncle Pennybags surges onto Fictional 15 for the first time following series of lucky chances, including bank error in his favor, life insurance maturing and winning second prize in a beauty contest. Even collected $200 million just for passing "Go." Capitalized on newfound wealth with ruthless efficiency, putting meters in Free Parking space. Also made general repairs to hotels on Kentucky, Indiana and Illinois Avenues. Arrested and indicted for federal conspiracy to commit wire and securities fraud; shook off conviction with a "get out of jail free" card. Despite good fortune, softening Atlantic City real-estate prices threaten core business.
Profile
Legendary real estate developer is equally well-known for his vehement opposition to the Sherman Antitrust Act and zany "little green houses" architectural esthetic. Buys properties through a shadowy network of front men known only by code names (Mr. Car, Ms. Dog and Señor Battleship). Big believer in Atlantic City; claims he would sooner build casinos on both Mediterranean and Baltic avenues before investing in Las Vegas. Rivals hint of unsavory associates; known to carry a "Get Out of Jail Free" card at all times. Featured in the Hasbro board game Monopoly.
Fast Facts
Advocates repeal of the poor tax
Once owned both the Electric Company and Water Works