Lionel 6-1663 Lake Shore Amtrak Set
e*Train Issue: Apr 2005 |
Posted in: 1970-now Modern Era, Collecting
By Brent Johnson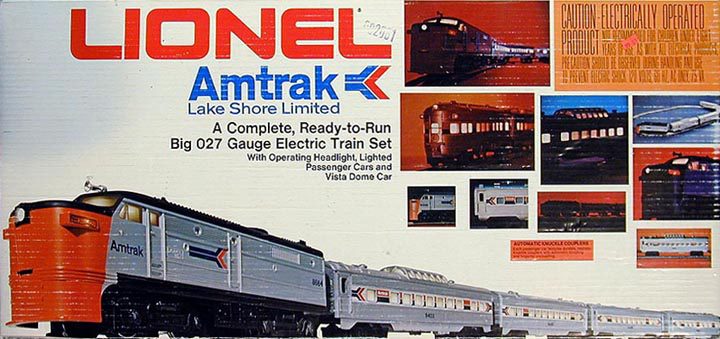 I recently purchased this set from my local trainshop-Trains & Such in Calgary,Alberta Canada. Quite pleased with this acquisition I hurried home to "play" with my new set.
The usual pre-inspection garnered a few surprises, first if the guy who had the set before me ever actually used it was probably once or twice around a Christmas tree and that's all. Second one axle was bent impeding rolling just enough to be a bother.
So time to replace wheels. Having accomplished this part of the pre-inspection I then proceeded to inspect the 8664 Alco engine.
Hmmmm…no wear, no tear, minor scratches.
Hey, lets open it up!!!
Clean, no dust?
No e-unit?
What the heck, a little bit of research later revealed that in 1977 when this unit was produced, no e-unit was installed so, the usual now familiar "on/neutral/reverse" is not going to happen with this set.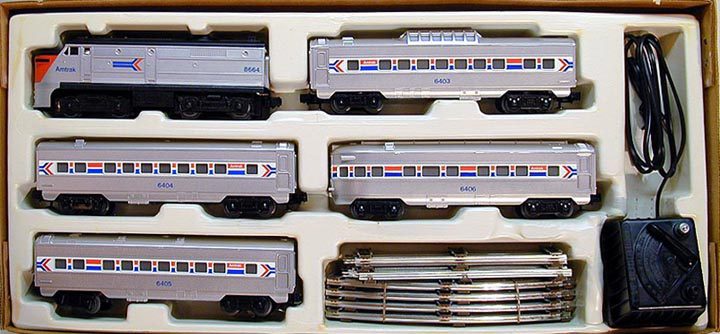 The rolling stock: Cars wonderfully lit with frosted windows!!
No people silhouettes such as my Silver spike Amtrak cars. [still looking for the matching engines]
So what's the paint and markings like?
Still crisp and clear after 30 years in storage.
A little bit of oil and a quick electrical check…ok let's run this baby!!!
Wow! The engine has red running lights on each side and a lit engineer's area. Nice forward driving light illumination. Cars: nice soft glow with the frosted windows
Wonderful effect, running my set around the old layout.
Hmm, what's this?
A lockout switch on top of the Alco engine. Ok, so try it out. Everything works just like it did 30 years ago, nice.
So what's it like to operate? Different, the Alco doesn't have a lot of pulling capacity as the motor is mounted in the rear of the engine. Traction tires [two] pull the set with authority but adding more passenger cars caused wheel slip, adding a few lead weights to the engine restored pulling power, so now I can pull 7-8 Amtrak cars with ease.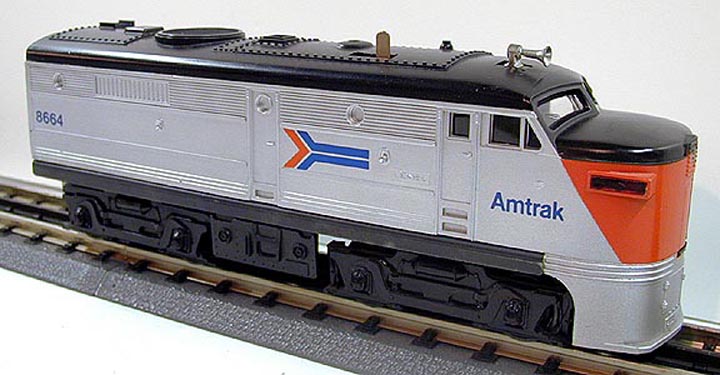 This is definitely a runner!!! Strong pulling engine as it breaks in and a big hit with my friends as it looks modern. When I tell them the set was built in 1977, they look at it again with a much deeper appreciation. Stops/starts are interesting because without an e-unit it's more of a momentary pause unless you turn off the power on your transformer. Funny? The passenger cars only have one pick-up per car and twin bulbs but no blinking on /and off over track. I think that Lionel could learn quite a bit about making a modern version of this set just by taking the old one apart.
Running this set around my layout has been a nice change from my usual freight sets and while playing trains, I've noticed a few more things about this set; no light bleed from around the windows, no sparks when going through switches. The rear passenger car is streamlined and has marker lights on the back [however they are dim] and might be in need of a small led light? To be added at some time in the future. The engine does warm up a bit after a prolonged session, but I'm happy to report that no warpage of the Alco body has occurred.
So, what are you waiting for? Go out and find yourself a bit of Fundimensions history.
This one, they got right.