LEGO® Bricks and Lionel® Trains, Perfect Together (Part 1)
e*Train Issue: Oct 2019 |
Posted in:
Operating & Layouts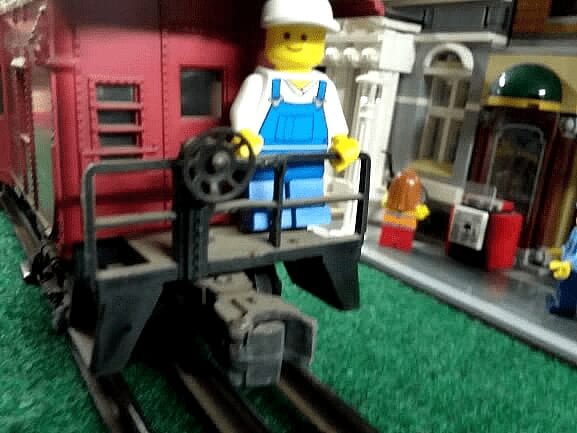 By: John S. Halajko, TCA 84-20653; Jay Stuhl, TCA 70-3009; Michael D. Ramsey, TCA 90-32297 Fall 2019
For a very long time John and Joanie's son, David, used to store his LEGO Collection on one of the shelves in the Train Room in Lawrenceville, NJ. We discovered that the buildings were the perfect size for an O-Gauge Layout or Train Garden and that the Little LEGO People can do some amazing things with engines, cars and accessories. Here are some ideas for you to study.
LEGO GUYS AS ENGINEERS AND FIREMEN
Above are two hard working people running a refurbished Lionel 773.
LEGO PEOPLE AS CONDUCTORS
The short LEGO people (herein call shorties, while Jay calls them, Da Kids) are the perfect size to conduct the train from the Lionel SP Style Caboose. Shorties can't sit down but they are useful for other applications as you will learn later. All shorties have short legs that do not bend.
Lego people as a crew.
The regular sized LEGO people (we'll call them regulars) are the perfect size for the engine crew cabs or the bay window caboose. Classic sized Lionel Hudsons and Pacifics have a crew cab big enough for two or you can plant the fireman on the tender as shown above. They also work with the PreWar six-wheel drive 224, 225, and 226.
Boxcar Larry, That LEGO GUY:
LEGO GUYS AS RR YARD WORKERS
We will talk about this class of LEGO People in the next issue, but here is a sneak preview.
INCORPORATING LEGO BRICKS INTO YOUR TRAIN GARDEN OR LAYOUT
First and foremost, kids relate to LEGO models. You don't need to run electric to them, therefore, you can plant the building anywhere in the train garden in a just few seconds. Some buildings come with streets, lawns and sidewalks, and it makes for the Instant LEGO Community.
Train gardens have more play value than train layouts. What's the difference? A train garden is like a real garden. Once planted in a train garden, the item will stay there for a year or two then the space is taken up by something else. A Train Garden always changes while most layout owners don't practice change. Then there are few of us who put a sign at a Train Garden building that the building was condemned by the City Health Inspector and must be torn down. Construction equipment is called in and the site undergoes demolition. A "This Property for Sale" sign is erected with the square footage of the lot. A "SOLD" sign will follow. A construction crew is brought in and the new building is erected followed by a Grand Opening Date.
Changing the Garden adds interest. As the Garden grows, make sure the LEGO buildings are placed so that little hands can reach and play with them. Train Gardens are so much better than a Static Train Layout. Why, because they change. Consider placing a sign at a building stating that it must be sold or torn down due to some reason like say Delinquent Taxes or Mercury Contamination. Have fun making the signs, demo stuff and building pieces.
THE PERFECT CENTERPIECE FOR YOUR AMUSEMENT PARK
And then there's the LEGO Cinderella Castle as the Centerpiece of Your Amusement Park! Mickey and Donald both agree that any train made up of Lionel, MTH, K-Line, Atlas, Weaver, Williams and/or Flyer items will make more frequent stops to your Amusement Park when the Cinderella Castle is the Centerpiece. Remember to let Donald and Mickey run the trains.
The Cinderella Castle is best located where you can see the front and rear of the building. See the pictures that follow. If you must put it against the wall, John recommends using a 12″ diameter Lazy Susan turntable to allow the unit to be easily turned on its base. There's a picture of the turntable, too! The cost of the new unassembled LEGO Castle is about the same as a new Lionel or MTH accessory, so it is not too cost prohibitive. All the figures shown below are included in the Castle. Many thanks to Andy's Brick Shop in the Oxford Valley Mall, Bensalem, PA for allowing the photo shoot that follows.
COMPETITORS
The LEGO Group, makers of LEGO Bricks, had their major patent expire in 1978 which opened competition as noted in the link that follows. So now there are building blocks "compatible with leading building bricks."
A new competitor has just entered the market. At Eastern Division's April 2019 York, Coaster Dynamics displayed their new line of Roller Coasters.
Here is a YouTube Link to Coaster Dynamics Ride as seen at April 2019 York Meet.
LEGO BRICKS AND YOUR CHRISTMAS TREE
In the room where you plant your Christmas Tree, the furniture all around can make great tunnels and mountains. If you can't get the train under the furniture move the furniture 8 to 10 inches from the wall and go around the entire room perimeter with a double track. Tubular O-31 track is our favorite to use for this because you can step on it and not damage it. And, it does not cost a lot! Pre-Owned O-Gauge track, in fair to rusty condition, can be acquired dirt cheap. Find a friend with a ½-hp grinder and install a wire wheel. Use this to remove the surface rust in the rails and track pins. The O-27 style track can be put close to the wall or in other out of the way places where people will not step on it. Use a piece of cardboard to shim the tracks for proper height. Trains on the floor also work great on carpet. If the track pins are loose you can use rubber bands to hold the track together. We also recommend using conductive grease on the track pins after tightening the rails with needle nose plyers.
Put the LEGO buildings on the floor where others will not step on them. Then, invite families and friends over to run trains. Back when John lived in the Kingdom of Texas, he discovered that homes had no basements and garages were too hot most of the year. There the daughter of a Lionel Train Collector could play trains on the floor twice a year. They took all the furniture out of the dining room and played trains on the floor the month the kids got off for summer vacation and at Christmastime. Lots of families have lasting memories when they came over by invitation just to run their trains!
THE LEGO ADVANTAGE AND THE CHALLENGE WITH OTHER GAUGES

Come and join us as we make a change to our hobby to help kids relate to trains. Share the running of the trains along with the playing and building of LEGO Bricks with others make for lasting memories.
A Shorty can fit on the Flyer Sawmill. Lots of other opportunities are available with Flyer Accessories.
LEGO figures and AMERICAN FLYER®, a match that Gilbert never thought possible. Can anyone figure out how to use a LEGO guy for the Lionel Fueling Station?
The title of this article was chosen to be catchy and to generate interest with younger readers. MTH, K-Line, MARX, Williams, Weaver or just about any O-Gauge or S-Gauge trainset and accessory can be used with LEGO bricks. The possibilities are almost endless. Can anyone figure out how to use LEGO bricks with other gauges?
So now we need to mention the TCA KIDS CLUB AND TCA TEENS CLUB CONTEST: TRAINSCAPING WITH CONSTRUCTION BRICKS 2020. See all the details in the Fall Kids and Teens Club Newsletters, on the web at TCA Kids Club and TCA Teens Club or in the National Headquarters News.
Tune in next issue for LEGO® Bricks Meet Lionelville®.
LEGO Bricks and Lionel Trains are Perfect Together, because they both begin with L.
LEGO, the LEGO logo and the Minifigure are trademarks of the LEGO Group.
Lionel, Lionelville and American Flyer are trademarks of Lionel Trademark LLC.