BOOK REVIEW– Standard Catalog of Lionel Trains 1945-1969
e*Train Issue: Jan 2004 |
Posted in:
Toy Train Paper & Auctions
by David Doyle (2004: Krause Publications, Iola , Wisconsin ; $29.99).
By Dr. Joseph Lechner, Toy Trains Mailing List moderator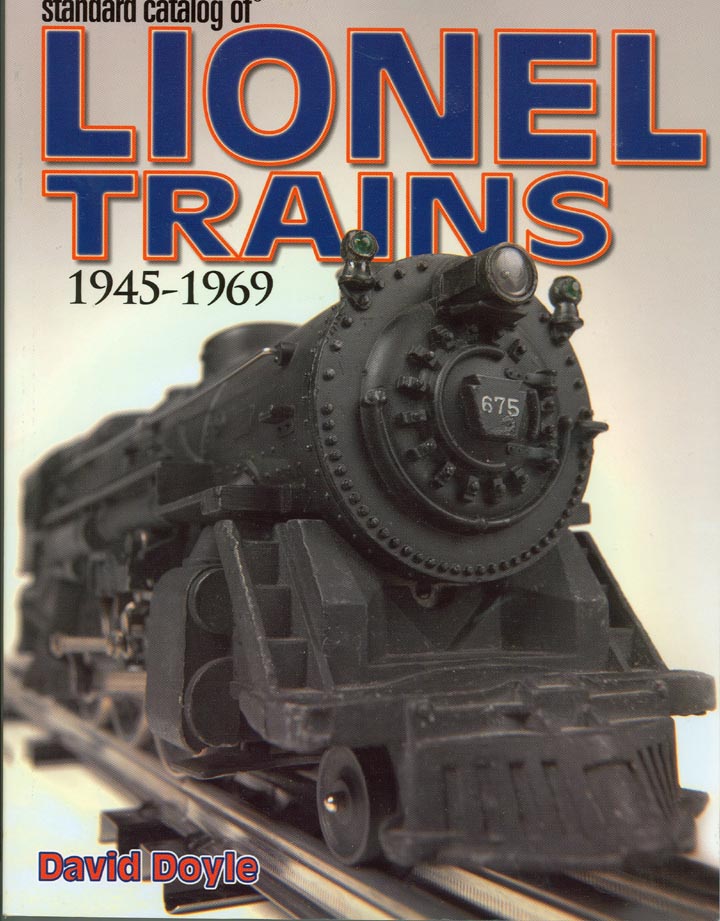 TCA member David Doyle has assembled a massive volume of information on postwar Lionel trains. At 400 8-1/2″ x 11″ pages, this must surely be the largest and most comprehensive book of its kind. It was an instant sellout during the Eastern Division TCA meet at York , PA last October, and I understand it has also been moving briskly on Amazon.com.
The steam locomotive on the cover of this book looked vaguely familiar to me. It is Lionel's 2-6-2 approximation of a Pennsylvania Railroad 4-6-2 (David says it's a class K-5), but it doesn't look exactly like mine. The engine on the cover has a spoked pilot, but it has no simulated coupler. The boiler front has a PRR keystone, but it's black instead of red. The keystone has number "675" heat-stamped in white. According to David, that's the scarcest variation of this locomotive, produced in 1947 only. As we have come to expect in guidebooks of this genre, David lists estimated values for every item in VG, EX, and LN condition. Additionally, David has assigned a numerical rarity rating to virtually every item. Both the rarities and the prices are based on David's 25 years of experience as a train collector, a TCA member/officer, and a hobby dealer. He uses an arbitrary scale from 1 to 8, where 1 is the most common and 8 is the rarest. David does not claim to know how many of a given item were originally manufactured or how many of them are still in existence; rather, his ratings are based on his own estimate of the likelihood of encountering that item in the usual train collecting venues today (e.g. hobby stores, TCA meets, and presumably eBay). As David says, if I come across an item but don't purchase it, "how likely am I to get this chance again?"
As a sample of David's rarity rating system, consider the following Postwar locomotives. Following each item's description is its estimated value in LN condition.
| | | | |
| --- | --- | --- | --- |
| Rarity | Catalog # | Item description | Like New value |
| 1 | 1110 | Lionel Scout 2-4-2 and tender | $30 |
| 2 | 202 | Union Pacific Alco A unit | $150 |
| 3 | 2243 | Santa Fe single motor F3 AB set | $700 |
| 4 | 2334 * | New York Central F3 AA set | $1200 |
| 5 | 2356 | Southern Railway F3 AA set | $2000 |
| 6 | 2368 | Baltimore and Ohio F3 AB set | $3400 |
| 7 | 2378 | Milwaukee Road F3 AB set with top stripe | $3300 |
| 8 | 2333 | Transparent F3 AA set | $5000 |
Notice that rarer items usually command higher prices, but not always. The #2378 Milwaukee Road F3 was supposed to be decorated with a thin yellow stripe along the roof line of both units; but this engine is more often found without the stripe. According to David, a striped #2378 is scarcer than a #2368 B&O, but the #2368 is worth more. This would appear to be a matter of personal taste. Many collectors consider Baltimore and Ohio 's royal blue, gray, black and gold scheme to be one of the handsomest color combinations ever applied to a diesel locomotive. In contrast, Milwaukee Road 's predominantly black color scheme is more sedate and, for many enthusiasts, less interesting.
I wanted to limit the above comparison to different road names of Lionel's classic model of the General Motors F3 twin diesel. However, there are no F3s with a rarity rating of 1 or 2; indeed, no Lionel diesel of any kind received a rating of 1. Only the lowly 2-4-2 steamer, as typified by Lionel Scout #1110, can be found in David's most-common category. Blessed indeed are the meek; for they have inherited the earth.
One diesel locomotive in the above list may have caught your attention and deserves special comment. Did he really say #2334 New York Central? Surely he meant #2333 . After all, Lionel's 1948 catalog called all F3s #2333 regardless of road name; and all the early ATSF and NYC F3s have #2333 molded into their illuminated number boards. However, David has uncovered evidence that Lionel intended its New York Central F3 to have a different number. Vintage service manuals call it #2334, and the cartons that these engines came in are stamped #2334. I did not know that.
David's book has color photographs of virtually every postwar locomotive, car, transformer, accessory, and catalog, plus at least one example of each style of box. The chapter on Sets lists the rolling stock (but not track or transformer) included in every cataloged set, and the years when each set was offered. There are, however, no photos of set contents.
From 1958-1960, Lionel cataloged a number of plastic structures, vehicles and figures that were manufactured by Bachmann Brothers. Most Plasticville pieces are common and cheap. The orange and blue boxes they came in are scarce, and can command hundreds of dollars apiece. David has photographed an example of each of these coveted Lionel boxes. Too bad he didn't also show their contents.
At $29.95, Standard Catalog of Lionel Trains is a phenomenal bargain. You would need to buy four volumes of Greenberg's Guide to Lionel Trains to find all the information in this one book.
Random pages of David's book are decorated with illustrations from Postwar Lionel catalogs. It is great to see this timeless artwork again, and to compare the original artist's conceptions with David's photos of what was actually produced. However, it is disconcerting to see half of a picture that was originally a two-page spread, such as a disembodied tender sans locomotive.
This is the book of choice for someone who has discovered Postwar Lionel trains in their attic and is wondering what to do with them. Even a non-hobbyist should be able to identify a train and estimate its value using this guide. Better yet, David has devoted two final chapters for that most fortunate person who possesses old trains and has decided to keep them. He shows how to clean up toy trains, and how to operate them.