A brief history of TTML
e*Train Issue: Jun 2019 |
Posted in:
TCA Adventures

By Dr. Joseph Lechner, 01-52673 Updated Summer 2019
On Tuesday, November 5, 1996, William Jefferson Clinton was re-elected President of the United States. On that same date, the late Ron Morris (HR-70-3178) launched an internet discussion group which he named the Toy Trains Mailing List.
Mr. Clinton has gone on to write his memoirs and whatever else former presidents do; but the TTML has been going strong now for twenty-four years. Its mission, then and now, is "to provide a platform where enthusiasts, both TCA members and the public, can discuss, inquire, and share knowledge about the collecting, operation and history of toy trains."
Anyone may participate, regardless of his or her club affiliation. This is important, because a number of hobbyists have become acquainted with the Train Collectors Association through TTML, and then decided to join the club. I know this because I am one of them.
TTML's web page depicts a Budd RDC-4 Railway Post Office car, pulling into a small-town station near you, ready to deliver its content of train-related messages and pictures. (Note the TTML logo on the side of the car!)
Part of the fun of TTML is meeting people in-person with whom you've chatted online. Paul Edgar (95-41742), Past President 2011-2012 and others have hosted a gathering at each national TCA convention since the list began. TTMLers used to meet informally for breakfast on the Friday morning of York meets. Clem Clement's pre-York talks on these occasions were legendary.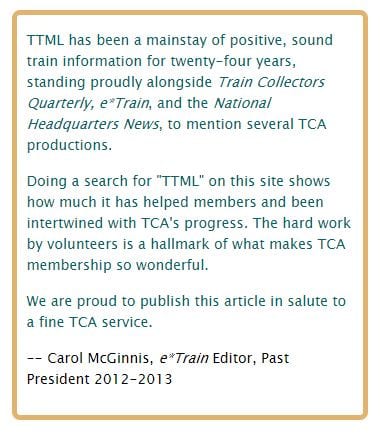 Over the years, I've found that one can post a question on any conceivable train-related topic, real or toy, and someone in the group will know the answer. I am continually learning more about this hobby from the expertise of fellow TTMLers. Many members have told me how they enjoy starting their morning with the daily railroad history lesson, such as the January 7, 2019 on Charles Addams. Our conversations are educational, but they're also fun.
Things get particularly interesting shortly after 12:01 a.m. on April 1, when noted correspondents such as Sofia P. Roll and Fill S. Oparo post their annual reports. In 2019, Diadelos Nocentes showed us evidence that Lionel considered adding a 3494-515 animated boxcar with "Katy" figurine to its line of trains for girls. Who knows what might have happened if outfit 1587S had sold better back in 1957?
TTML has been hosted by three different "networks" during its existence. It began on lists.best.com in 1996. It migrated to eGroups.com in June 1999. A year or so after that, eGroups.com became part of Yahoo! with no interruption of service. During the past 24 years, over 151,000 messages have been posted. Dan Pfeffer (95-41985) has archived them all on his http://toytrains.info site.
Over the past quarter-century, many individuals have contributed to the success of Toy Trains Mailing List, including Chris Allen, Clem Clement, Paul Edgar, Katie Elgar, Michael Frieders, Barb Jones, Bob LeBras, Ron Morris, Paul Olekson, Dan Pfeffer, Stu Rankin, Frank Samaritano, Gordon Wilson, TCA operations manager John Luppino, and TCA librarian Lori Nyce.
How to Join:
Anyone may join TTML by browsing to http://groups.yahoo.com/neo/groups/toytrains/info
or by sending an e-mail to
[email protected]
A Yahoo! username and password are required for website access, but not for e-mail participation. Web users have access to additional features, such as uploading / downloading photographs that aren't available via e-mail access. Come join us!
Also see:
http://www.tcaetrain.org/2d-articles/tca/TTMLadventures/index.shtml. e*Train article published in Fall, 2018 in which Rupert Campbell, TCA President 2018-2019 reflects on a TTML post and its subsequent discovery!